One Person Who Won't Be Running for President? Michelle Obama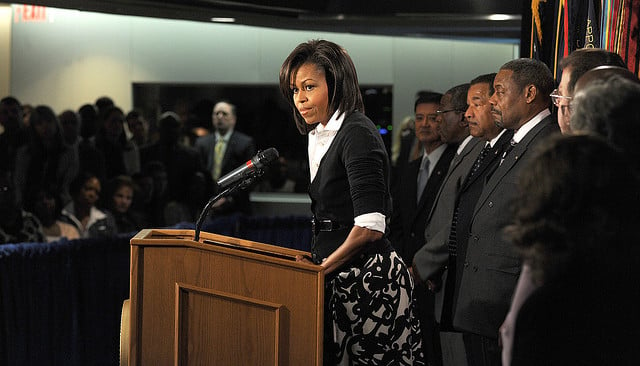 The end to President Obama's presidential story still has yet to be written, but if there's one person you can count on not running for president in the coming terms, it's his wife.  ABC News's Barbara Walters sat down with the Obamas in an interview that aired on a special edition of 20/20 Friday night, and it is there that she asked the high-profile couple a number of questions, beginning with a special inquiry for the president: "Don't you think the first lady would have made a better president?"
As highlighted by ABC News, Obama was quick to come up with the answer, "Of course. That's an easy question!" However, Ms. Obama had other feelings. She told Walters during the interview taped last week that she has no interest in being president, and explained that, "I absolutely don't [have that patience]." His wife maintained, "He has a level of patience and focus and tenacity and calm that just doesn't come by anyone." Once that question was out of the way, Walters kicked off the less serious part of the interview, and delved into details of the Obama's personal life, asking where they see themselves living once the second presidential term ends in 2017.
Interestingly enough, it looks like the decision will partly be up to the couple's youngest daughter, Sasha, because it is she who will still be in high school when Obama leaves office, and therefore she will be given the opportunity to help dictate where the family re-locates. The family's eldest daughter, Malia, on the other hand, will likely be in college by the time the Obamas move, and will thus be less affected by the decision. It'll be interesting to see where the family ends up, considering the Obamas currently own a home in Chicago and the president has been openly critical about Washington's polarized political culture, but that decision will be left partly to Sasha, who is still attending school in the District, meaning President Obama could end up staying close to the political fireworks whether he likes it or not.
Aside from the family's future home, other interesting topics visited over the course of the interview included the ever popular social media platform, Facebook (NASDAQ:FB).  Ms. Obama, known for especially-protective nature, was quick to point out her distaste for the social network, and she told Walters, "I still am not a big believer in Facebook for young people, particularly for them, because they're in the public eye." The first lady went on to explain that her two daughters have limited access to social media, including Facebook.
Though the interview on ABC News eventually took a turn to the more serious side, wading into treacherous territory surrounding the president's lowering popularity ratings and Obamacare blunders, it helped elucidate that above all, the Obamas are parents, and President Obama may be Commander-in-Chief, but his wife ist still "Mom-in-Chief."
Don't Miss: ECB Considers Negative Deposit Rates.