Optimism at the Zero Bound: Draghi Stays Positive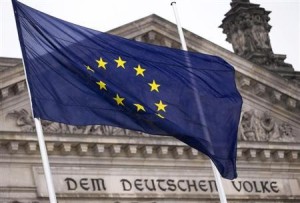 The Governing Council of the European Central Bank concluded a regular policy meeting on Thursday. The ECB Governing Council, presided over by Mario Draghi, is responsible for determining monetary policy. The bank is explicitly tasked with maintaining the purchasing power of the euro and promoting financial stability and integration across the euro zone.
"Based on our regular economic and monetary analyses, we decided to keep the key ECB interest rates unchanged," reported Draghi at the conclusion of the meeting. These key rates are the main refinancing operations rate (0.50 percent), the marginal lending facility rate (1.00 percent), and the deposit facility rate (0.00 percent). The interest rates on refinancing operations and the marginal lending facility were both decreased after the last meeting at the beginning of May.
The goal with near-zero benchmark rates is to put downward pressure on nominal and real interest rates. This should ease financing conditions, effectively stimulating economic activity by making money easier to access than it otherwise would be. That said, Draghi reported that the underlying pace of monetary and credit expansion in the euro area "continues to be subdued." Loan growth to non-financial corporations remained in contraction at -1.9 percent.
Draghi commented that "this development stemmed, in particular, from net redemptions in short-term loans, which could reflect reduced demand for working capital against the background of weak order books in early spring. More generally, weak loan dynamics continue to reflect primarily the current stage of the business cycle, heightened credit risk and the ongoing adjustment of financial and non-financial sector balance sheets."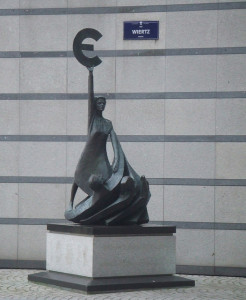 Price pressures in the euro are are also expected to remain subdued. Medium-term inflation expectations "continue to be firmly anchored in line with our aim of maintaining inflation rates below, but close to, 2 percent."
Eurostat, the statistical office of the European Union, reported that the annual rate of inflation in May is expected to be 1.4 percent, up from 1.2 percent in April, according to flash estimates. The increase was led by the food, alcohol, and tobacco category (+3.3 percent) with some downward pressure on energy (-0.2 percent).
The euro area's low inflation rate sits against a backdrop of negative economic growth. Real GDP contracted by 0.2 percent in the first quarter of 2013, the sixth consecutive quarter of negative growth. Labor market conditions also remain weak, with the headline unemployment rate in the EU 27 increasing to 12.2 percent in March, and remaining flat at 11.0 percent in the EA17. Unemployment is up from 11.2 percent and 10.3 percent in the year-ago period, respectively.
"The Governing Council continues to see downside risks surrounding the economic outlook for the euro area. They include the possibility of weaker than expected domestic and global demand and slow or insufficient implementation of structural reforms in euro area countries," commented Draghi.
There's no hiding the fact that the euro zone is facing a heap of bad news and howling economic headwinds. But still, Draghi had a few optimistic points to make. "The accommodative stance of our monetary policy, together with the significant improvements in financial markets since mid-2012, should contribute to prospects for an economic recovery later in the year."
Equity markets in major euro area economies have done fairly well over the past year, despite volatility.

"Against this overall background, our monetary policy stance will remain accommodative for as long as necessary. In the period ahead, we will monitor very closely all incoming information on economic and monetary developments and assess any impact on the outlook for price stability," said Draghi.
In a speech he gave in Shanghai, Draghi argued that "there are a few signs of a possible stabilization."
"The drivers of such a gradual recovery are the highly accommodative monetary policy and export growth, caused by growing foreign demand," Draghi said. Recent stock market gains are "benefiting virtually all economic agents, including corporations, banks and households," he added.
During the speech in Shanghai, Draghi also defended the ECB's bond-buying plan, dubbed Outright Monetary Transactions, which enables the central bank to purchase bonds of euro zone member countries to bring down their borrowing costs. The program, which as announced in mid-2012, has made the euro area a "more stable and resilient place to invest in than it was a year ago," Draghi said.
"This important improvement largely reflects the removal of unwarranted fears of a systemic collapse of monetary union that was previously priced in by markets." But the German Constitutional Court is still determining whether the bond-buying plan is compatible with German primary law and a hearing will be held later this month.
Here's a video of the June 6 post-meeting press conference.
Don't Miss: Are Stocks Finally Running Out of Steam?