Oracle and Dell to Launch x86 Infrastructure and 2 More Heavily Traded Stocks to Follow
Oracle Corporation (NASDAQ:ORCL): Current price $33.29
Oracle and Dell (NASDAQ:DELL) are working jointly to debut a new x86 infrastructure, which should be of help to customers of both firms. This solution will unite Oracle's software with Dell's hardware, thus permitting organizations to manage applications more rapidly and also to enhance the performance, flexibility, and efficiency of the system. With this collaboration with Oracle, Dell wants to simplify its information tech infrastructure, while lowering the integration costs of delivering its hardware and software as a bundle. A combo of Dell and Oracle x86 infrastructure support functions will give a single point of contact to customers.

News Corp. (NASDAQ:NWSA): Current price $31.78
The New York Post, owned by News Corp., has been sued by a high school student and a 24-year-old man who say that a front-page photograph of them at the Boston Marathon finish line prior to it being bombed, falsely implied they were suspects. The lawsuit was filed Wednesday in Boston by Salaheddin Barhoum, 16, and Yassine Zaimi, 24, regarding the newspaper's April 18 edition, which read "BAG MEN" in large block letters over the image. The men are both permanent United States residents, say that they are avid runners, and attended the April 15 marathon to watch the elite competitors cross the finish line, leaving two hours before the bombs exploded. Barhoum and Zaimi say that they were never sought by authorities.

Sprint Nextel Corporation (NYSE:S): Current price $7.30
On Thursday, Sprint and Clear Channel announced plans to work together to help American veterans find work. The firms said that they would collaborate on iHeartRadio Show Your Stripes, which is an initiative aimed at growing job opportunities for men and women who served in the military. The intention is to bring awareness around the difficulty of veteran unemployment, encourage businesses to hire skilled veterans, and help those transitioning out of the military to find jobs.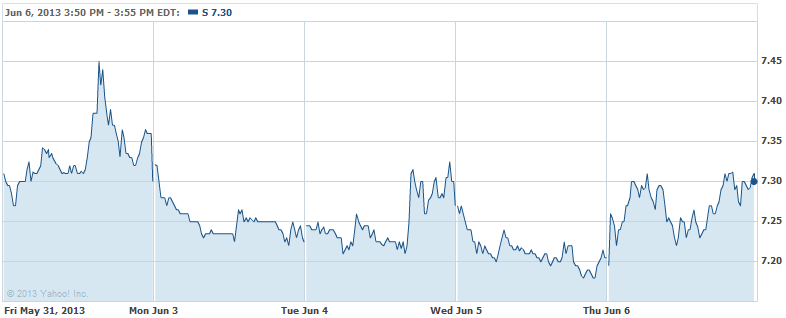 Don't Miss: Is Sina a Buy at These Prices?