Oracle Corp Earnings Cheat Sheet: Double-Digit Growth Again
S&P 500 (NYSE:SPY) component Oracle Corporation (NASDAQ:ORCL) reported net income above Wall Street's expectations for the fourth quarter. Oracle Corp. develops, manufactures, markets, distributes and services software designed to help its customers manage and grow their businesses.
Don't Miss: Wall St. Cheat Sheet's newest Feature Trades of the Month!
Oracle Earnings Cheat Sheet for the Fourth Quarter
Results: Net income for the application software company rose to $3.21 billion (62 cents/share) vs. $2.36 billion (46 cents/share) in the same quarter a year earlier. A rise of 35.8% from the year earlier quarter.
Revenue: Rose 13.4% to $10.78 billion YoY.
Actual vs. Wall St. Expectations: ORCL reported adjusted net income of 75 cents/share. By that measure, the company beat the mean estimate of 71 cents/share. Estimates ranged from 68 cents per share to 73 cents per share. Analysts were expecting revenue of $10.75 billion.
Quoting Management: "In Q4, we achieved a 19% new software license growth rate with almost no help from acquisitions," said Oracle President and CFO, Safra Catz. "This strong organic growth combined with continuously improving operational efficiencies enabled us to deliver a 48% operating margin in the quarter. As our results reflect, we clearly exceeded even our own high expectations for Sun's business."
Key Stats:
The company has enjoyed double-digit year-over-year revenue growth for the past five quarters. Over that span, the company has averaged growth of 36.7%, with the biggest boost coming in the first quarter when revenue rose 48.4% from the year earlier quarter.
The company has now seen net income rise in three-straight quarters. In the third quarter, net income rose 78% and in the second quarter, the figure rose 28.3%.
From the third quarter, the company's current liabilities rose to $14.19 billion from $11.28 billion.
The company has now topped analyst estimates for the last four quarters. It beat the mark by 4 cents in the third quarter, by 5 cents in the second quarter, and by 4 cents in the first quarter.
Competitors to Watch: Intl. Business Machines Corp. (NYSE:IBM), Hewlett-Packard Company (NYSE:HPQ), Microsoft Corporation (NASDAQ:MSFT), SAP AG (NYSE:SAP), Intel Corporation (NASDAQ:INTC), Apple Inc. (NASDAQ:AAPL), Red Hat, Inc. (NYSE:RHT), EMC Corporation (NYSE:EMC), CA, Inc. (NASDAQ:CA), and Adobe Systems Incorporated (NASDAQ:ADBE).
Stock Performance: Shares of ORCL are down over 6% after hours…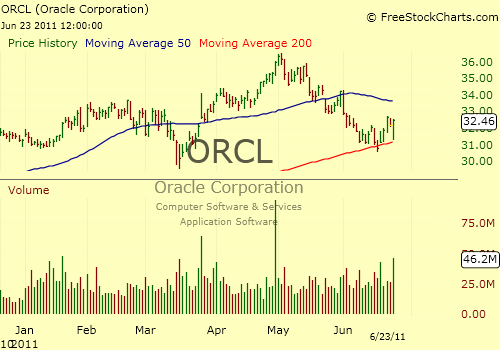 Don't Miss Wall St. Cheat Sheet's newest Feature Trades of the Month!
(Source: Xignite Financials)