Oracle Launches E-Business Suite Extensions and 2 More Heavily Traded Stocks to Follow
Oracle Corporation (NASDAQ:ORCL): Current price $30.11
On Monday, Oracle announced the availability of Oracle E-Business Suite Extensions for Oracle Endeca, so as to aid organizations in making better operational decisions, enhance process efficiency, and steer improved cost and revenue decisions. Through the leveraging of Oracle Endeca Information Discovery tech, Oracle E-Business Suite Extensions offer a new manner in which businesses and organizations may explore their operational data in real-time, so that they might concentrate on transactions that need their immediate attention, and have a measurable impact on the business, driving revenue and lowering costs.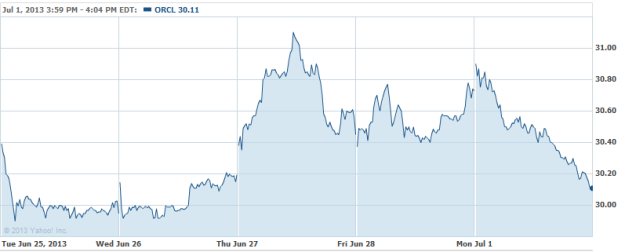 News Corp. (NASDAQ:NWSA): Current price $14.79
Class A shares of News Corp set off Nasdaq's short14.79-sale circuit breaker early on Monday during the first day of trading following the publishing division's split from its entertainment arm. Soon afterwards, Nasdaq said that it is lifting its short sale restriction on the shares, as it was decided that the circuit breaker was triggered by improper closing value. The publishing unit kept the News Corp name, as the entertainment arm will operate as 21st Century Fox. In late afternoon trading, NWSA shares are up by more than 30 percent.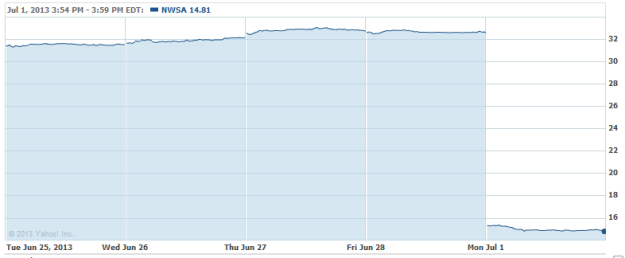 Tesla Motors (NASDAQ:TSLA): Curremt price $117.18
Tesla shares pushed to a record intraday high, subsequent to the analyst Elaine Kwei at Jefferies Group nearly doubling her price target, and hiking estimates of its 2013 deliveries. Shares rose by 7.1 percent to $114.95 at 11:31 a.m. Eastern Time, after moving up 8.8 percent to $116.20. The stocks have more that tripled in 2013 through June 28th, compared with a 13-percent rise for the Russell 1000 Index. On Monday, Kwei elevated her price target on Tesla from $70 to $130, and increased her estimate of 2013 Tesla production from 19,800 to 21,500 Model S sedans. Additionally, Kwei boosted her estimate for the second-quarter output to 5,000 from 4,500, writing that "Despite the massive run in the stock, we believe TSLA is one of the best growth stories in the market today and still has upside." The analyst pointed to higher Model S sales and higher profit margins as among "potential positive catalysts."