Oracle Releases Java Update and 4 Stocks Hitting 52-Week Highs
Oracle Corp. (NASDAQ:ORCL): Closing price $34.96
On Sunday, the company released an emergency update to its Java software, but security experts say that it still leaves in place several security flaws, according to Reuters. Shares closed up 0.29 percent on the day at $34.96, having been traded in a 52-week range of $25.33 to $35.00.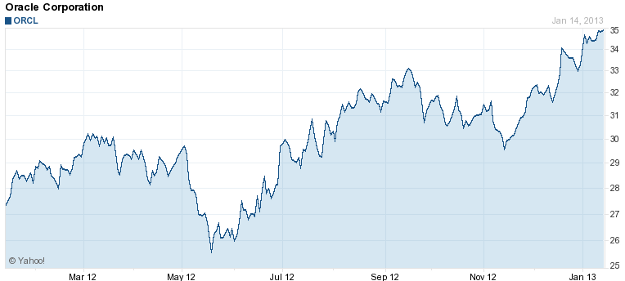 Pfizer (NYSE:PFE): Closing price $26.74
Pfizer is considering the acquisition of Agila Specialties, the injectable-medicines division of Strides Arcolab, say knowledgeable persons to Bloomberg. The business has also drawn interest from Mylan (NASDAQ:MYL), Novartis (NYSE:NVS) and Fresenius (NYSE:FMS), and could be valued at approximately $2 billion. Shares closed up 0.83 percent on the day at $26.74, and have been traded in a 52-week range of $20.75 to $26.83.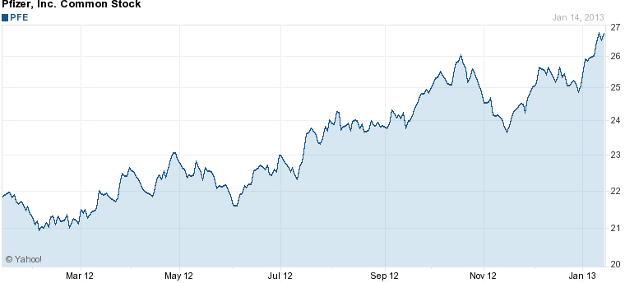 Start 2013 better than ever by saving time and making money with your Limited Time Offer for our highly-acclaimed Stock Picker Newsletter. Click here for our fresh Feature Stock Pick now!
Ixia (NASDAQ:XXIA): Closing price $1924
Ixia anticipates that its fourth quarter combined revenue from its two recent purchases, Anue Systems and BreakingPoint Systems, to be between $30 million and$31 million, compared with its previous  guidance of $26 million to $28 million. Shares closed up 8.95 percent on the day at $19.24, having been traded in a 52-week range between $9.95 and $18.15.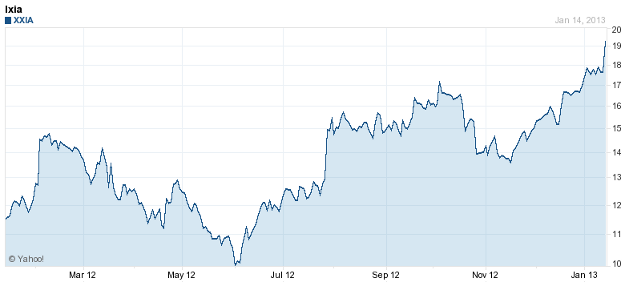 OPKO Health (AMEX:OPK): Closing price $5.71
OPKO has expanded its collaboration with Bristol-Myers Squibb Company (NYSE:BMY) in regards to its diagnostic test tech. The former's simple blood tests are being developed, based on its proprietary platform tech, through which to identify biomarkers for a wide variety of diseases, including neurodegenerative disorders and various malignancies. Through the terms, work will continue on the Alzheimer's project and additional investigations will use OPKO's technology in an endeavor to identify biomarkers which are predictive of drug responses in several therapeutic areas. Shares closed up 6.13 percent on the day at $5.71,and have been traded in a 52-week range of $3.52 to $5.85.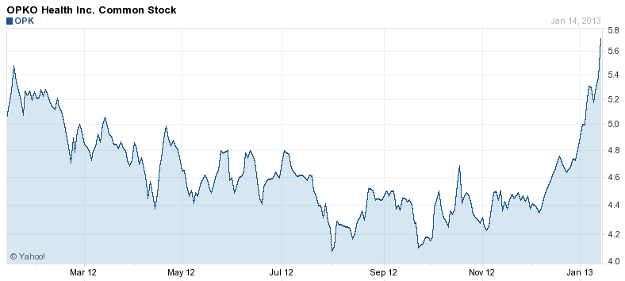 Virginia Commerce Bancorp (NASDAQ:VCBI): Closing price $11.56
The firm said that its board has begun a formal review of strategic alternatives to improve shareholder value, which include a possible merger, divestiture or other type of business combination. For that purpose, Virginia has retained Sandler O'Neill + Partners, as financial advisors to advise the board in its review. The firm has set no definitive timetable for completion of its evaluation and there is no assurance that this process will lead to the pursuit, approval or completion of any transaction or other strategic initiative. Shares closed up 9.57 percent on the day at $11.56, having been traded in a 52-week range of $7.46 to $10.70.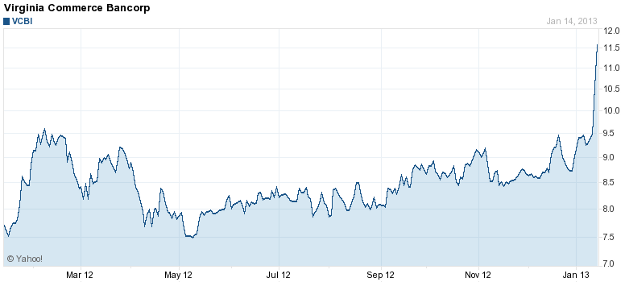 Don't Miss: Tablets Deliver Another Blow to the PC Industry.