Oracle Releases Secure Global Desktop and 2 More Heavily Traded Stocks to Follow
Oracle Corporation (NASDAQ:ORCL): Current price $32.76
On Tuesday, Oracle announced its new release of Oracle Secure Global Desktop, forming part of Oracle's Desktop Virtualization portfolio. Oracle Secure Global Desktop 5.0 extends secure, anywhere-access to cloud-hosted and on-premise enterprise applications and desktops from Apple iPad and iPad mini tablets, without requiring a VPN client. This new desktop gives tablet users, alongside PC, MAC and desktop users, certified access to Oracle Exalogic Elastic Cloud and also Web-based Oracle Applications, including Oracle CRM.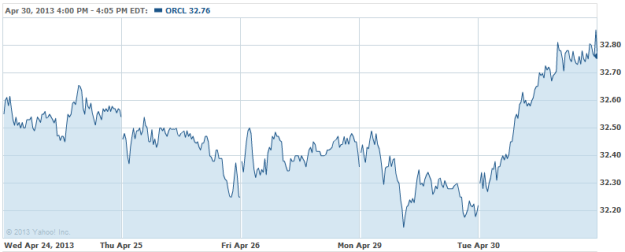 Cisco Systems (NASDAQ: CSCO): Current price $20.92
Cisco has announced that the University of Virginia Center for Telehealth is the premier member of the Cisco Healthcare Center of Excellence program. Created to advocate collaboration by recognizing institutions which are highly-effective in using network-based tech and solutions through which to modernize health care, the Cisco Healthcare Center of Excellence program focuses upon stimulating innovation by aligning health IT investments with clinical and business processes to extend access, improve outcomes and lower costs.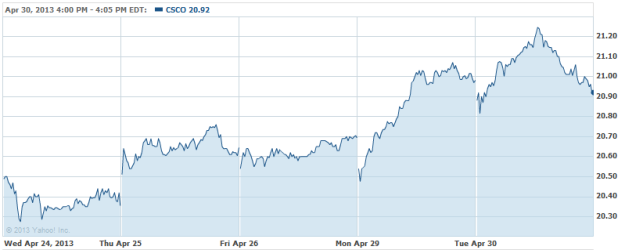 Delcath Systems (NASDAQ:DCTH): Current price $0.83
Adam Feuerstein at TheStreet reports that Delcath has appreciable problems two days prior to an FDA advisory panel's review its medical device-chemotherapy system known as Melblez. In a hard-hitting assessment, the FDA made clear that Melblez will not be okayed until Delcath runs a new clinical trial. In reaction, shares had plummeted by 36.69 percent to 88 cents just before noon.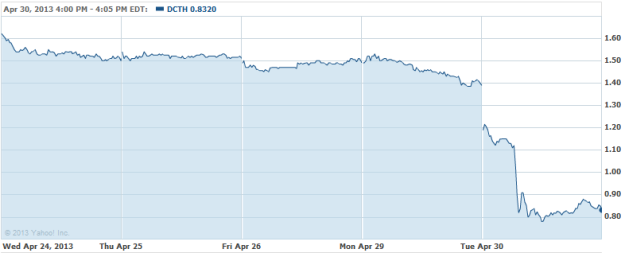 Don't Miss: Durability: The Big Feature Samsung Forgot About.