Oracle & Salesforce.com Launch Strategic Partnership and 2 Other Hot Stocks to Watch
Oracle Corporation (NASDAQ:ORCL): Current price $30
On Tuesday, Oracle and Salesforce.com unwrapped a "strategic partnership" in corporate software, representing a notable shift in the relationship between two competitors. The new partnership is supposed to last nine years, and will concentrate upon improving their firms' capabilities in cloud computing, which is the going trend in which businesses access computing by means of a network, rather than  the use of in-house data centers.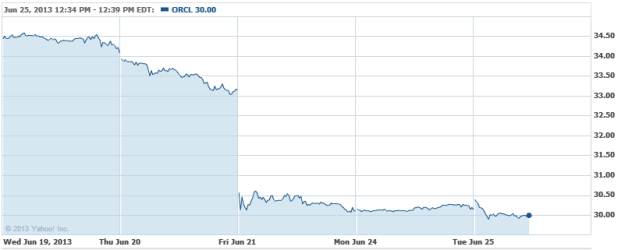 Microsoft Corporation (NASDAQ:MSFT): Current price $33.70
June 25 is the first anniversary of Microsoft Corp. announcing its purchase of Yammer, which provides enterprise social networks. In that year, Microsoft's enterprise social momentum has been stepped up in all areas, among which include new users, user engagement, paid customers, innovation, and the ecosystem of partners selling and connecting with the Yammer platform. Top 12-month growth highlights include that fact that registered users have grown by more than 55 percent to almost 8 million, paid networks increased by over 200 percent year-over-year, and  Yammer user activity has approximately doubled in the same time period.

Boston Scientific Corporation (NYSE:BSX) Current price $9.17
The medical device corporation has started patient enrollment for its INTREPID trial in the United States, with the first implantation of its Vercise DBS System.
The trial will examine the clinical efficacy of its Vercise DBS System in the treatment of Parkinson's disease. This forthcoming clinical evaluation conducted by Boston Scientific is a multi-center, double-blind, randomized and control study to analyze the motor functions in affected patients. In the third quarter of 2012, the System won the European CE Mark approval.