Oracle Slumps Post-Results, Facebook Gains a Fan at UBS, and 3 More Hot Stocks
Oracle Corp. (NASDAQ:ORCL): Shares are getting battered on Friday after the company reported slight misses to both its EPS and revenue for Q4. Positively, the company seems to have improved its sales execution — a problem in Q3 — and is pleased with its performance in Europe, given the general macro economic climate. It also declared a $0.12 per share quarterly dividend, double the amount of its prior dividend of $0.06. Larry Ellison promises cloud app/infrastructure partnerships with rivals Salesforce, NetSuite, and Microsoft will be announced next week for Oracle's 12C database. Separately, Oracle will be shifting its stock listing to the NYSE from the NASDAQ on July 15th.
Facebook (NASDAQ:FB): Facebook has picked up a Buy rating from UBS, which says new monetization efforts could force the Street to bring its estimates higher. It puts a $30 price target on the shares, with the potential for $36 in upside. "Based on our checks, Facebook plans to begin selling Newsfeed video ads in 2H 2013. Our estimates assume that Facebook will be able to monetize daily video ad slots in the sevenfigure range," the firm said.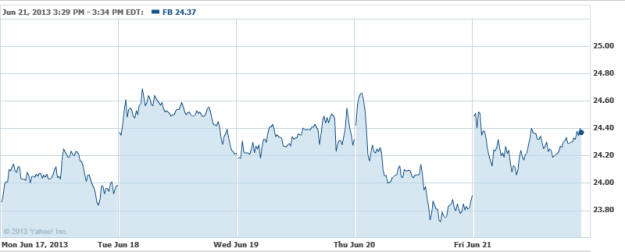 Morgan Stanley (NYSE:MS): The firm has announced that it has received the final regulatory approvals to purchase the remaining 35 percent of Morgan Stanley Smith Barney that is still owned by Citigroup, with the closing of the $4.7 billion cash deal expected to take place on or around June 28. Morgan Stanley will adjust down its capital by about $200 million to reflect the difference in the purchase price and the carrying price, which is expected to put pressure on the bank's Q2 earnings.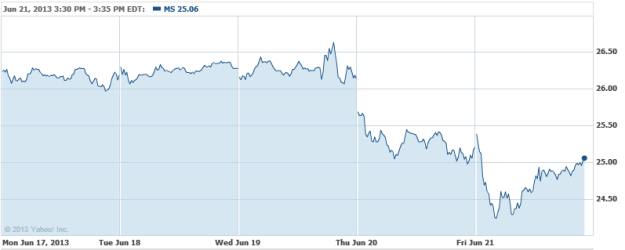 BHP Billiton (NYSE:BHP): Japanese trading firms Itochu and Mitsui say they will invest a combined $1.5 billion in BHP Billiton's new Jimblebar iron ore mining hub in Australia, with Itochu taking and 8 percent stake and Mitsui walking away with 7. Jimblebar's initial production capacity is expected to be around 35 million metric tons per year, but has the capacity to expand.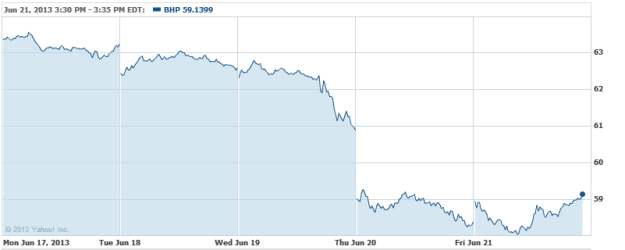 Dunkin' Donuts (NASDAQ:DNKN): The company is now referring to itself as "a beverage company," in its continuing efforts to better align itself as a competitor to Starbucks (NASDAQ:SBUX). Coffee and other drinks account for 58 percent of U.S. franchise sales, and the company wants to see that number swell as beverages have the highest margins. As Dunkin prepares to head "west of the Mississippi," as Carbone put it, the company is rolling out a national media campaign focused on its drinks rather than any of its food offerings.

Don't Miss: France Has a Problem With Amazon's Discounts.