Oracle's Java Requires Fix and 4 Stocks Enjoying 52-Week Highs
Enbridge (NYSE:ENB): Closing price $44.72
Seaway Crude Oil Pipeline Company, which is a half-and-half joint venture owned by affiliates of Enterprise Products Partners (NYSE:EPD) and Enbridge, says that service on the 500-mile, 30-inch diameter pipeline between Cushing, Oklahoma and the Gulf Coast resumed Friday, with roughly 400,000 barrels per day of capacity now available to shippers. Service was suspended on January 2nd, so that the remaining pump station connections could be finished, permitting capacity to be raised from around 150,000 barrels per day. Shares closed up 0.95 percent on the day at $44.72, and have been traded in a 52-week range of $34.42 to $44.39.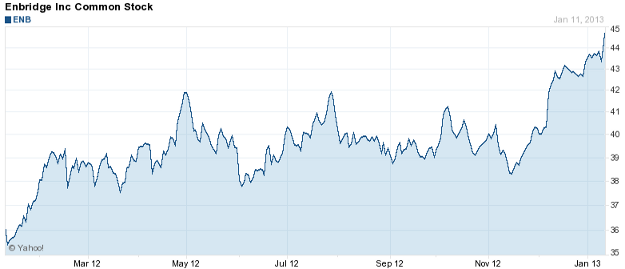 Kohlberg Kravis Roberts & Co. (NYSE:KKR): Closing price $15.98
First Data Corporation, which is an electronic commerce and payment processing firm owned by KKR , said that Chief executive Jon Judge intends to step down from the company due to health reasons. The firm's board will conduct a search for a new chief executive and Judge will remain in his position until a transition is completed. Shares closed up 0.38 percent on the day at $15.98, having been traded in a 52-week range of $11.03 to $16.05.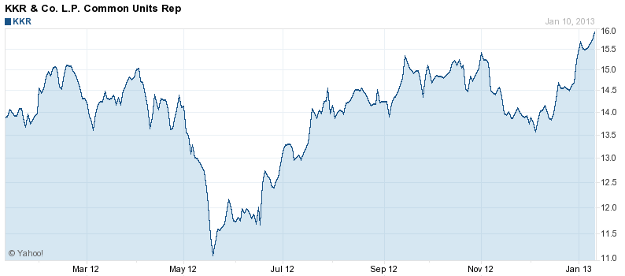 Start 2013 better than ever by saving time and making money with your Limited Time Offer for our highly-acclaimed Stock Picker Newsletter. Get our fresh Feature Stock Pick now!
Oracle Corporation (NASDAQ:ORCL): Closing price $34.86
A serious flaw in Java, which is a free piece of software distributed by Oracle, might expose computers to malicious attacks, says  US-CERT, an arm of the Department of Homeland Security that oversees the policing computer security vulnerabilities, according to The Financial Times. The agency recommended that PC and Mac users disable Java on their machines until a solution has been released. Shares closed down 0.14 percent on the day at $34.86, and have been traded in a 52-week range of $25.33 to $34.92.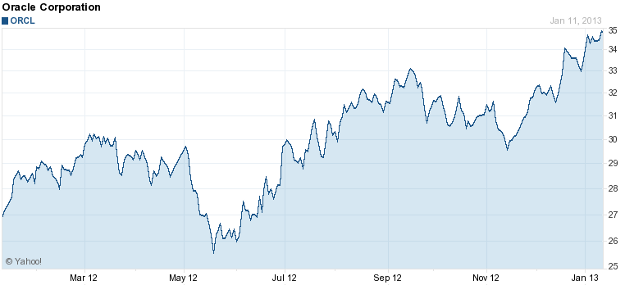 Ralcorp Holdings (NYSE:RAH): Closing price $89.87
ConAgra Foods (NYSE:CAG) and Ralcorp Holdings reported that the waiting period under the Hart-Scott-Rodino Antitrust Improvements Act of 1976, as amended, in regards to the previously-announced purchase of Ralcorp by ConAgra Foods, expired on January 10th, which satisfies one of the conditions to the completion of the transaction. Shares closed up 0.28 percent on the day at $89.87, having been traded in a 52-week range between $59.28 and $89.86.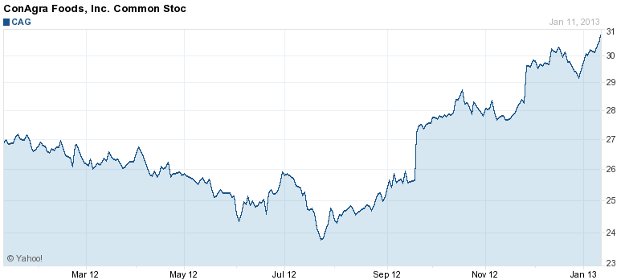 UBS (NYSE:UBS): Closing price $17.29
It might be that UBS has been manipulating Libor rates for "years," according to its formers executives, according to the  Independent. Former Chief Executive Marcel Rohner, along with other managers, were accused of "incompetence and gross negligence" by members of the Parliamentary Commission on Banking Standards for failing to uncover what they conceded was "stealing on a grand scale". Shares closed up 0.82 percent on the day at $17.29, and have been traded in a 52-week range of $9.78 to $17.20.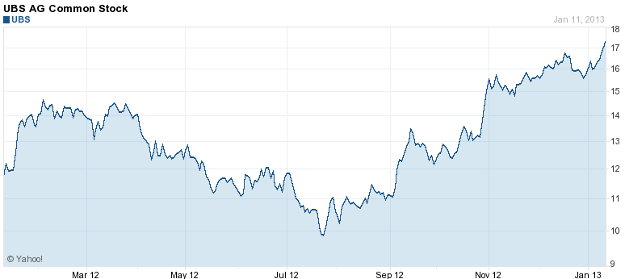 Don't Miss: Morgan Stanley Gets Tough on Microsoft and EMC.