Orbitz Keeps On Keeping On and 2 Stocks Reaching 52-Week Highs
Innovative Solutions & Support (NASDAQ:ISSC): Closing price $7.02
On Thursday, Delta Air Lines placed an order for over $60 million with Innovative Solutions & Support for a complete systems integration, dual GPS navigation and cockpit avionics upgrade of Delta's MD88 and MD90 aircraft. IS&S will provide all the equipment and installation kits. Specially-trained installation teams will remove the existing equipment and install all the LRUs, on site, and ready the aircraft for return to service. It is expected that this turnkey modification will take fewer than six days. Shares closed up 27.17 percent on Friday at $7.02, and have been traded in a 52-week range between $3.02 and $7.40.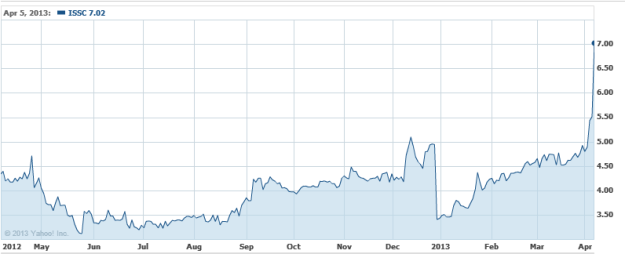 Orbitz Worldwide (NYSE:OWW): Closing price $6.48
Shares have risen since Monday, and are still going strong on Friday. The rally is likely due to a long-standing struggle between Orbitz and AmericanAirlines being resolved. In a brief press release, the firms said that the accord to "resolve all litigation between them" still requires court approval, and neither party would have further comment at that time. The dispute was ignited by American Airlines' refusal to provide flight and price information to Orbitz and others in the online travel industry, saying that it could better serve its customers by the use of travel agents. Shares closed up 3.68 percent on Friday at $6.48, having been traded in a 52-week range of $2.07 to $6.88.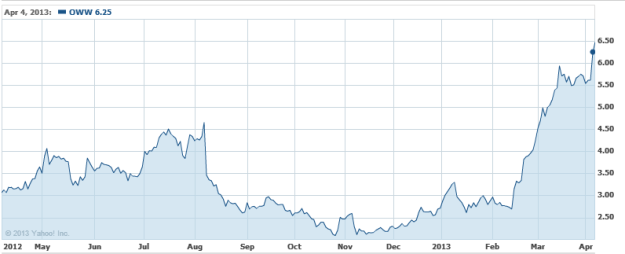 Tanger Factory Outlet Centers (NYSE:SKT): Closing price $37.03
On Thursday, Tanger announced that its board hiked the company's yearly dividend by 6 cents, or 7 percent, up to 90 cents. The mall operator also said that the board declared a quarterly dividend of 22.5 cents for the quarter ended March 31st, which will be paid on May 15th to shareholders of record as of April 30th. The company is based in Greensboro, and has 43 outlet shopping centers in 26 states across the United States. Shares closed up 0.41 percent on Friday at $37.03, and have been traded between $28.94 and $37.18 in the last 52 weeks.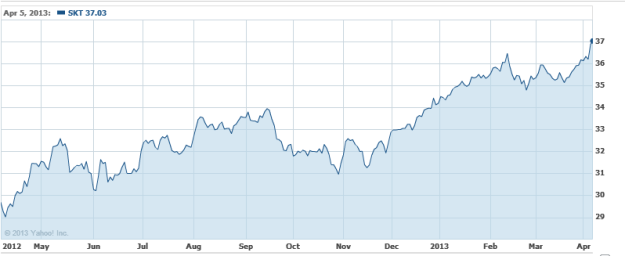 Investing Insights: Are All-Time High Prices Supported By Procter & Gamble?