Orbitz Settles Dispute and 2 Stocks Reaching 52-Week Highs
Orbitz Worldwide (NYSE:OWW): Closing price $6.25
Shares have risen since Monday, when a long-standing struggle between Orbitz and American Airlines was settled. In a brief press release, the firms said that the accord to "resolve all litigation between them" still requires court approval, and neither party would have further comment at that time. The problem had been American Airlines' reluctance to supply flight and price information to Orbitz and others in the online travel industry, saying that it could better serve its customers by the use of travel agents. Orbitz and other Web-based travel sites, claimed that American was trying to avert the use of online travel sites altogether. Shares closed up 0.64 percent on Thursday at $6.25, and have been traded in a 52-week range of $2.07 to $6.04.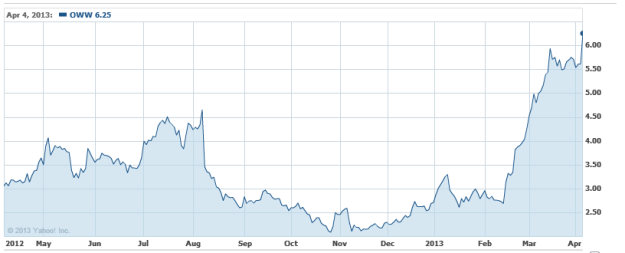 Pfizer (NYSE:PFE) Closing price $29.17
The firm recently reported that it has won conditional marketing authorization from the European Commission for its oncology product, Bosulif (bosutinib). Bosulif gained conditional EU approval for the treatment of adults suffering from chronic, accelerated, and blast phase Philadelphia chromosome positive chronic myelogenous leukemia that has been prior to this time treated with one or more tyrosine kinase inhibitors and for whom treatments like Novartis' (NYSE:NVS) Gleevec (imatinib) and Tasigna (nilotinib) and Bristol-Myers Squibb Company's (NYSE:BMY) Sprycel (dasatinib) are not considered suitable. Shares closed up 0.45 percent on the day at 29.17, having been traded in a 52-week range between $21.40 and $29.44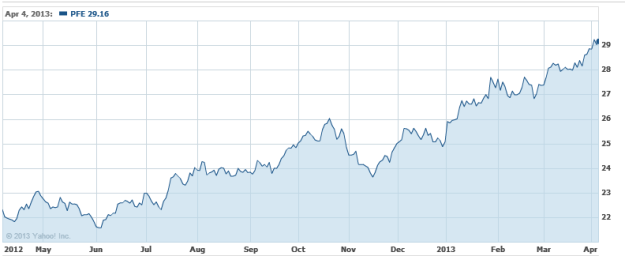 Sterling Bancorp (NYSE: STL): Closing price $11.32
Provident New York Bancorp (NYSE: PBNY) will acquire Sterling in transaction that was valued at $344 million when the deal was announced, but shares of both firms have moved higher since that point. Sterling shareholders will get 1.2625 shares of Provident common stock and should expect the purchase to close in the fourth quarter. Once accomplished, Provident shareholders will own 53 percent of the company, and Sterling shareholders the remaining 47 percent. Provident intends to use an $80 million debt offering to help pay for the deal and expects it to be accretive to its 2014 earnings per share. Shares closed up 13.20 percent Thursday at $11.32, and have been traded between $8.30 and $11.60 in the past 12 months.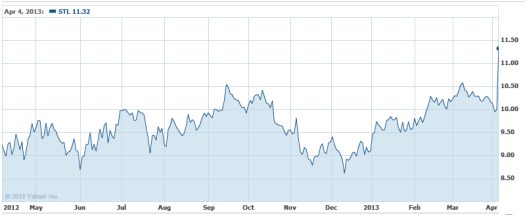 Investing Insights: Are All-Time High Prices Supported By Procter & Gamble?