Out-of-Control College Costs Force Parents to Cut Back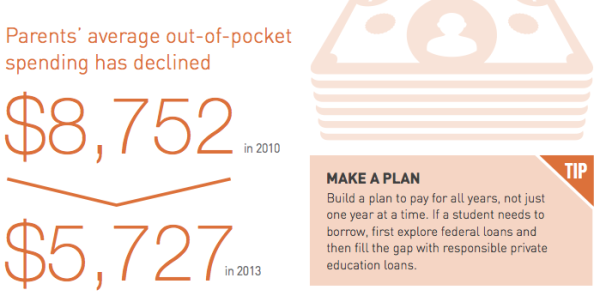 College is big business. Millions of students decide to pursue a post-secondary education every year. There are many benefits to investing in higher education, but the skyrocketing cost of a degree has many parents tightening purse strings.
Between the aftershocks of the Great Recession and an ever-increasing tuition bill, parents across the United States are reducing how much financial aid they give to their children. Parents now pay 27 percent of college expenses from income and savings, down from the peak of 37 percent in 2010, according to a new study from Sallie Mae and Ipsos. During the 2012-2013 school year, parents forked over an average of $5,727 compared to $8,752 three years ago.
Despite the burden of college expenses and debt, 85 percent of parents still believe that college is an investment in their child's future, representing the highest reading in six years.
"In this post-recession environment, families overwhelmingly believe in the dream of college, yet they are more realistic when it comes to how they pay for it," said Jack Remondi, the president and CEO of Sallie Mae, in the report. "The study found that the majority of families do not have a financial plan to pay for college. We recognize that having a plan, however, increases the likelihood of success. That is the ultimate goal, for students, families, schools, and us."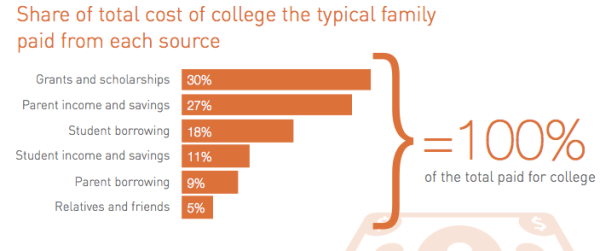 Money from parents is the second most common source to pay for college, while grants and scholarships are the most widely used at 30 percent, compared to 25 percent four years ago. The average amount of such aid grew to $6,355, up from $4,859 in 2009. The study says borrowing is the third most common source. In fact, four in 10 families use debt to pay for college.
Students are feeling more pressure than ever when it comes to affording college. The average price of college tuition increases an average of 8 percent a year, meaning the cost of tuition doubles about every nine years. That outpaces almost every other kind of inflation that is widely tracked. As a result, families are focusing on ways to reduce college expenses.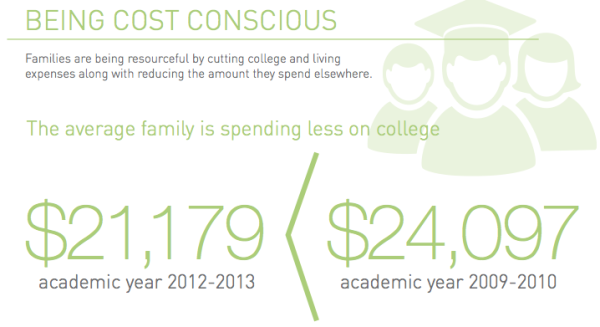 Sallie Mae found that 67 percent of families eliminate colleges at some point in the application process due to costs, up from 58 percent in 2008. Fifty-seven percent of students lived at home during the college years, while 27 percent accelerated coursework to graduate sooner. Furthermore, 48 percent of parents and 60 percent of students polled said they reduced overall spending. Almost half of students also said they worked more during college.
The average family spent $21,179 on college during the 2012-2013 academic year, down 12 percent from the 2009-2010 school year.
Follow Eric on Twitter @Mr_Eric_WSCS
Don't Miss: Top 10 Real Estate Markets Where Home Flippers Are Making a Killing.