Outlook: Best Buy Struggles With Turnaround Plan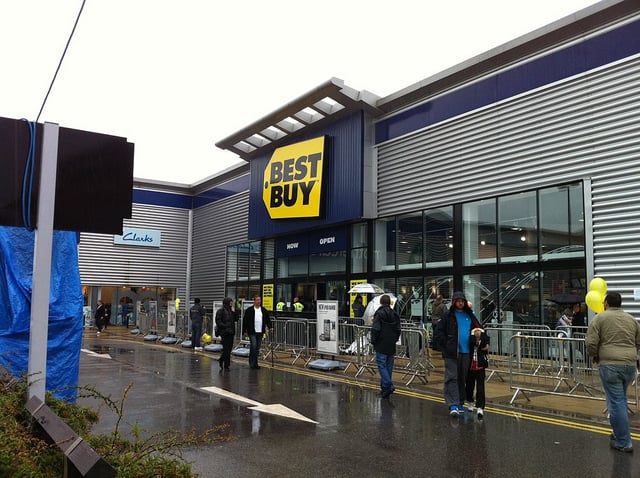 Q3 upside from solid cost controls and a slight positive comp. Revenue was $9.4 billion, compared with our estimate of $9.2 billion and the consensus estimate of $9.4 billion. Non-GAAP EPS was $0.18 (excluding a $0.06/share net charge), compared with our estimate of $(0.04), and the consensus estimate of $0.12. Comps were +0.3 percent with domestic +1.7 percent and international -6.4 percent.
Management continues to make solid progress with cost-cutting. Last November, the company announced planned cuts of $400 million and $325 million to SG&A and COGS, respectively. As of Q3, the company has realized total annualized cost reductions of $505 million ($340 million in SG&A and $165 million in cost of goods sold). We believe these cuts are sustainable, but do not expect cuts meaningfully beyond the targeted amounts.
While the launch of next-generation video game consoles will likely provide a lift to overall consumer electronics sales, we believe Best Buy (NYSE:BBY) is unlikely to capture its historical market share. The PS4 has sold over 1 million North American units, and the Xbox One is likely to do the same. Best Buy commentary and our knowledge of GameStop (NYSE:GME) allocations suggests to us that Best Buy will receive fewer than 10 percent of consoles shipped, below its historical 15 percent share.
International comps were down 6.4 percent; international sales were down 11.3 percent overall. Best Buy attributed the disappointing comparable store sales number to mobile phone inventory constraints, foreign currency headwinds, store closings, and China subsidies that pulled demand forward to the first half of the year.
We are raising our FY:14 estimates to reflect Q3 results, and are slightly increasing Q4 estimates. For Q4, we are raising our revenue estimate to $15 billion from $14.6 billion; our EPS estimate goes to $1.41 from $1.39, driven by a slightly higher comp, largely offset by lower gross margin. We are raising our FY:15 revenue estimate to $42.2 billion from $42.1 billion, and increasing our EPS estimate to $1.79 from $1.56 to reflect better than expected cost controls.
We reiterate our UNDERPERFORM rating and 12-month price target of $9. Our target is based on 6x sustainable free cash flow and reflects expected negative comps, further margin erosion, low visibility, lack of guidance, and doubts about the sustainability of Best Buy's turnaround plan. We expect comps declines to continue, and we expect price matching to continue to pressure margins.
Don't Miss: 5 Things We Can't Wait to See in 'Catching Fire'.