Outlook: Key March Headlines for the Hardcore Gamer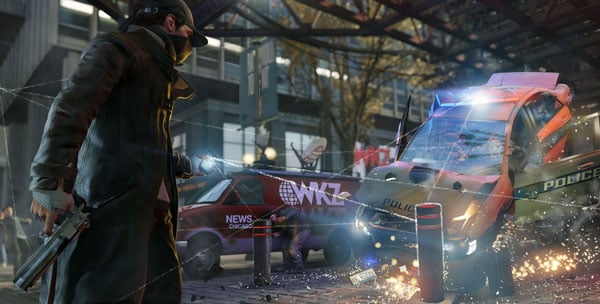 In March, GameStop (NYSE:GME) reported results that were in-line with expectations, while Majesco reported an EPS miss. Further, the Wedbush Video Game Index, our market cap-weighted index of video game companies, was up 1 percent for the month of March. The S&P 500 was up 1 percent and the Russell 2000 was down 1 percent as investors weighed generally positive economic data and the Federal Reserve's continued commitment to low interest rates against the geopolitical uncertainty caused by the Crimean crisis and wavering consumer confidence.
Take-Two Interactive (NASDAQ:TTWO) shares were up 11 percent as investors appear hopeful that the company will provide clarity into its long-term release slate. GameStop was up 10 percent after reporting in-line Q4:13 results and providing solid guidance. Ubisoft shares were also up 10 percent as it continued to rebound from its October guidance decrease and provided a launch date for the highly-anticipated Watch Dogs. Majesco (NASDAQ:COOL) had the worst month, down 24 percent after reporting a Q1:14 earnings miss and providing bearish FY:14 high-level commentary. Nintendo shares also traded down for the month.
Key March Headlines
o 3/4 – Sony (NYSE:SNE) announced that over 6 million PS4 consoles had sold-through globally as of March 2, with over 13.7 million software units sold (including digital downloads from the PlayStation Store.)
o 3/6 – On the PlayStation blog, Jack Tretton, President and CEO of Sony Computer Entertainment of America (SCEA), announced that he would be stepping down effective March 31 after nineteen years at the company. Although he did not provide a reason for his departure, he announced that it was the result of a mutual agreement with SCEA.
o 3/11 – EA (NASDAQ:EA) released Respawn Entertainment's Titanfall for the Xbox One and PC to strong reviews, with the Xbox 360 version of the game slated for release on April 8 after two delays. In addition, Microsoft (NASDAQ:MSFT) introduced a Titanfall Xbox One bundle for $499.99 that included a download code for a digital copy of the game, among other perks, essentially bundling the game for free. We view Titanfall as the first must-have game for the Xbox One, and believe that the bundle proved to be very popular as well, particularly after a $50 price cut at certain retailers including Best Buy (NYSE:BBY) and Wal-Mart (NYSE:WMT).
o 3/11 – Blizzard Entertainment (NASDAQ:ATVI) released Hearthstone: Heroes of Warcraft (PC), a free-to-play digital collectible card game, to strong reviews.
o 3/12 – Majesco Entertainment reported a Q1:14 earnings miss, as its top-line beat was offset by gross margin weakness. Management again passed on providing detailed FY:14 guidance, although it does expect a revenue decline and an operating loss for the year.
o 3/18 – The Wall Street Journal reported that Wal-Mart will introduce a program that allows customers to trade in used games for gift cards that can be used on any item in-store and online. In addition, Wal-Mart (NYSE:WMT) will offer used games at discounted prices beginning this summer. We do not expect Wal-Mart to gain meaningful share from GameStop, as we believe it will have difficulty attracting supply from its core customer base.
o 3/19 – In an EA blog post, Patrick Söderlund, EVP of EA Studios, announced that the release of the Xbox 360 SKU of Titanfall had been delayed a second time to April 8 (in Q1:15) from March 25 (in Q4:14) in North America to give developer Bluepoint Games additional time for polish. The latest delay had no impact on financial guidance.
o 3/25 – Facebook (NASDAQ:FB) announced that it had reached a definitive agreement to acquire Oculus VR, a developer of virtual reality technology, for approximately $2 billion, including $400 million in cash and roughly $1.6 billion of Facebook stock. The deal is expected to close in Q2:14. Facebook plans to extend Oculus VR's reach beyond gaming to communications, education, and media and entertainment, among other areas.
o 3/25 – Blizzard Entertainment released Diablo III: Reaper of Souls (PC) to strong reviews. It is the first expansion for 2012's Diablo III, which had sold-through over fifteen million units across all platforms as of the end of 2013.
o 3/27 – GameStop reported Q4:13 results that were roughly in-line with our expectations, and provided initial FY:14 guidance that exceeded our bullish expectations.
o 3/31 – Phil Spencer, formerly Corporate Vice President, Microsoft Game Studios, was appointed Head of Xbox.
Michael Pachter is an analyst at Wedbush Securities. 
More From Wall St. Cheat Sheet: