Outlook: Netflix Lags Despite Hit Shows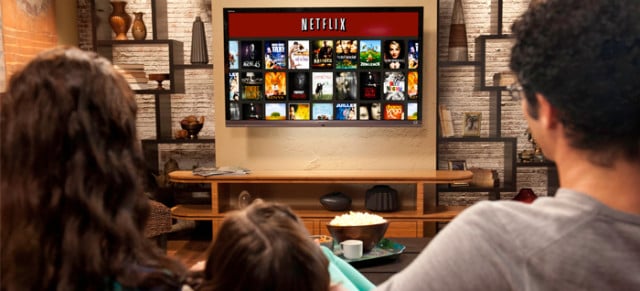 The following is an excerpt from a report compiled by Michael Pachter of Wedbush Securities.
Netflix (NASDAQ:NFLX) will report Q2 results after market close on Monday, July 21, and host a video discussion at 2 p.m. pacific time (webcast: youtube.com/netflixir). The Q2 moderator will be Doug Anmuth of JP Morgan once again, with Michael Nathanson of MoffettNathanson replacing Rich Greenfield of BTIG Research. We note that in January, Mr. Greenfield analogized the Internet Service Provider ("ISP") strategy of increasing fees charged to Netflix over time to "boiling a frog." Netflix does not provide its selection rationale for the moderators; we consider the use of moderators as part of an agenda to cast the company in a favorable light, and question the use of moderators as creating the potential for favoritism.
Expecting a Q2 beat as the popularity of original content should offset seasonality. Our current estimates are for revenue of $1.34 billion and EPS of $1.13, versus consensus of $1.34 billion and $1.15, and guidance of $1.12 (Netflix did not provide revenue guidance). We modeled Q2 domestic streaming sub net adds of 0.52 million, in line with guidance, but down from 0.63 million in Q2:13, reflecting the negative impact of seasonality. We believe the positive buzz around the second season of its "most watched show" Orange Is the New Black drove a Q2:14 net adds number at least in line with the prior year. When combined with the recent price increase for new members and cost discipline ahead of international expansion in Q4:14, a Q2:14 beat appears likely. For international, we modeled Q2 sub net adds of 1.00 million, vs. guidance of 0.94 million and 0.61 million last year.
We expect Q3 domestic sub net adds guidance at or above last year's 1.29 million and EPS guidance at or above current consensus of $1.06. We expect Netflix to advertise as needed to hit the Q3 subs number, with content spending relatively muted ahead of Q4 when international expansion resumes.
The Netflix streaming experience on two of the largest ISPs continues to lag the pack. According to the June data from the Netflix ISP Speed Index, which ranks sixteen ISP product offerings by streaming speed, Verizon FiOS and DSL are No. 12 and No. 16, while AT&T U-verse and DSL are No. 13 and No. 15. We believe Netflix could improve the streaming experience for these customers through larger payments to the ISPs. If not, Netflix may risk losing subs to competing services. We believe it is easier for the consumer to switch streaming services than ISPs.
Maintaining our UNDERPERFORM rating and twelve-month price target of $215. Our PT reflects a sum-of-the-parts analysis that values domestic streaming at $150/share, international streaming at $50/share, and domestic DVD at $15/ share.
Michael Pachter is an analyst at Wedbush Securities. 
More From Wall St. Cheat Sheet: