Owens & Minor Inc. (NASDAQ:OMI) reported its results for the first quarter. Owens & Minor, Inc. is a distributor of medical and surgical supplies to the acute-care market and a healthcare supply-chain management company.
Don't Miss: Wall St. Cheat Sheet's newest Feature Trades of the Month!
Owens & Minor Earnings Cheat Sheet for the First Quarter
Results: Net income for the medical appliances and equipment company rose to $28.7 million (45 cents/share) vs. $27.8 million (44 cents/share) in the same quarter a year earlier. A rise of 3.3% from the year earlier quarter.
Revenue: Rose 7.8% to $2.12 billion YoY.
Actual vs. Wall St. Expectations: OMI fell short of the mean analyst estimate of 47 cents/share. Estimates ranged from 46 cents per share to 48 cents per share.
Quoting Management: "We are off to a solid start in 2011 with revenue growth resulting from both new business and increased sales to our existing customers," said Craig R. Smith, president & chief executive officer of Owens & Minor. "We are also pleased that, as planned, OM HealthCare Logistics, our third-party logistics business, officially began in April to serve its new customer, CareFusion (NYSE- CFN), with warehousing, distribution and transportation services."
Key Stats:
Last quarter's profit increase breaks a streak of two consecutive quarters of year-over-year profit decreases. In the fourth quarter of the last fiscal year, net income fell 32.6% while the figure dropped three quarters ago.
Gross margins grew 0.3 percentage point to 9.9%. The growth seemed to be driven by increased revenue, as the figure rose 7.8% from the year earlier quarter while costs rose 7.5%.
Over the last five quarters, revenue has increased 2.4% on average year over year. The biggest increase came in the most recent quarter, when revenue rose 7.8% from the year earlier quarter.
Competitors to Watch: PSS World Medical, Inc. (NASDAQ:PSSI), Chindex Intl., Inc. (NASDAQ:CHDX), Henry Schein, Inc. (NASDAQ:HSIC), Patterson Companies, Inc. (NASDAQ:PDCO), Cardinal Health, Inc. (NYSE:CAH), McKesson Corporation (NYSE:MCK), AmerisourceBergen Corp. (NYSE:ABC), and Lincare Holdings Inc. (NASDAQ:LNCR).
Today's Performance: Shares of OMI are down 0.15% in after hours trading.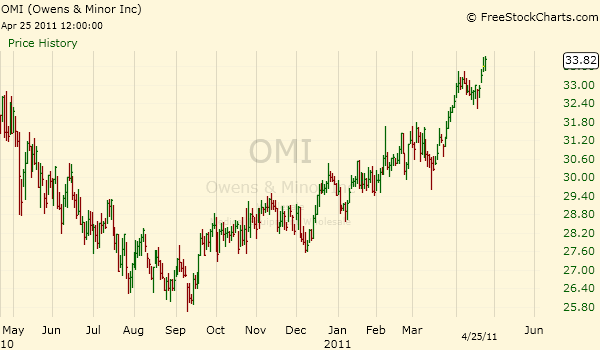 Don't Miss Wall St. Cheat Sheet's newest Feature Trades of the Month!