PACCAR Earnings: Revving Up the Engine
S&P 500 (NYSE:SPY) component PACCAR Inc. (NASDAQ:PCAR) reported net income above Wall Street's expectations for the first quarter. PACCAR Inc. is a technology company that designs and manufactures light, medium and heavy duty commercial trucks and related aftermarket parts.
Don't Miss: Wall St. Cheat Sheet's newest Feature Trades of the Month>>
PACCAR Earnings Cheat Sheet for the First Quarter
Results: Net income for the vehicles company rose to $193.3 million (53 cents/share) vs. $68.3 million (19 cents/share) YoY. A more than twofold rise from the year earlier quarter.
Revenue: Rose 43.5% to $3.04 billion YoY.
Actual vs. Wall St. Expectations: PCAR beat the mean analyst estimate of 49 cents/share. Estimates ranged from 38 cents per share to 62 cents per share.
Quoting Management: "PACCAR reported improved revenues and net income for the first quarter of 2011," said Mark Pigott, chairman and chief executive officer. "PACCAR's results reflect the benefits of stronger truck sales in Europe and North America and an improvement in financial services profit and parts revenues worldwide. The higher utilization of PACCAR's truck facilities contributed to increased gross margins. North American and European economies are recovering, with the exception of the residential and commercial construction markets in the United States. Our on-highway customers are benefiting from increased freight tonnage and freight rates which are driving improved fleet productivity. I am very proud of our 19,000 employees who have delivered excellent results to our shareholders and customers."
Key Stats:
The company has enjoyed double-digit year-over-year revenue growth for the past five quarters. Over that span, the company has averaged growth of 34.4%, with the biggest boost coming in the most recent quarter when revenue rose 43.5% from the year earlier quarter.
The company has now seen net income rise in three-straight quarters. In the fourth quarter of the last fiscal year, net income rose 268.3% and in the third quarter of the last fiscal year, the figure rose 822.3%.
Competitors to Watch: Navistar International Corporation (NYSE:NAV), Cummins Inc. (NYSE:CMI), Wabash National Corporation (NYSE:WNC), Tata Motors Limited (NYSE:TTM), Advance Auto Parts (NYSE:AAP), and AutoZone (NYSE:AZO).
Today's Performance: Shares of PCAR are trading at $52.29, up 3.94% from the previous close.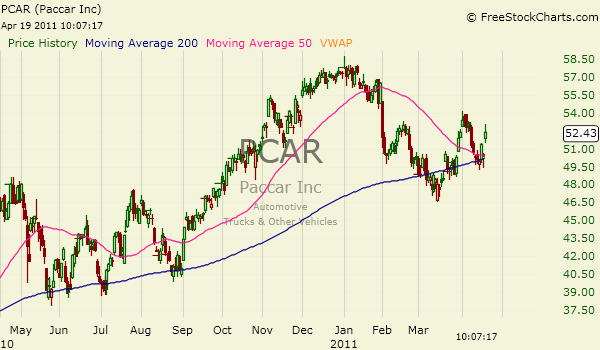 Don't Miss Wall St. Cheat Sheet's newest Feature Trades of the Month!