Pall Corp Earnings Cheat Sheet: Revenues Rise Over 15%
S&P 500 (NYSE:SPY) component Pall Corporation (PLL) reported its results for the most recent quarter. Pall Corp. supplies filtration, separation and purification technologies for the removal of contaminants from a variety of liquids and gases.
Don't Miss: Wall St. Cheat Sheet's newest Feature Trades of the Month!
Pall Corporation Earnings Cheat Sheet
Results: Net income rose 2% to $71.1 million (60 cents/share) vs. $69.7 million or 58 cents per share in the year earlier quarter.
Revenue: Rose 15.2% to $709.8 million
Actual vs. Wall St. Expectations: PLL reported adjusted net income of of 72 cents/share. By that measure, the company beat the mean estimate of 71 cents/share. Estimates ranged from 69 cents per share to 73 cents per share.
Quoting Management: Eric Krasnoff, CEO and President, said, "Fiscal 2011 sales have increased by double digits throughout the year. Third quarter sales rose 11% in LC with Life Sciences up 12% and Industrial close to 10%. BioPharmaceuticals again performed well reflecting Pall's broadening presence throughout the biotech production process. Microelectronics grew, driven by increased semiconductor production for a wide variety of industrial and consumer products."
Competitors to Watch: Nordson Corporation (NASDAQ:NDSN), General Electric Company (NYSE:GE), CLARCOR Inc. (NYSE:CLC), 3M Company (NYSE:MMM), Donaldson Company, Inc. (NYSE:DCI), Thermo Fisher Scientific Inc. (NYSE:TMO), Danaher Corporation (NYSE:DHR), Parker-Hannifin Corp. (NYSE:PH), Teleflex Incorporated (NYSE:TFX), and Flow International Corp. (NASDAQ:FLOW).
Stock Performance: Shares of PLL are trading at $52.92 per share.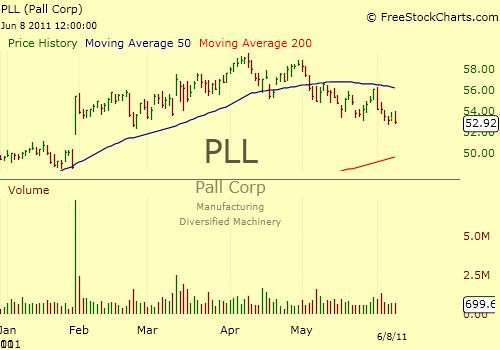 Don't Miss Wall St. Cheat Sheet's newest Feature Trades of the Month!
(Sources: YahooFinance, Xignite Financials)