Pandora's Quarter Brings Upgrades, Disney Gets Bids For Hulu, and 3 More Hot Stocks
Pandora Media (NYSE:P): On a strong earnings report, RBC Capital upgraded Pandora from Sector Perform to Outperform with a price target of $24.00, up from $16. Heard on the conference call:  "Is there something now that makes you think … you'll have a more subscription mix in the model going forward [considering] the increase in that Pandora One revenue?" analyst Mark Mahaney asked. "From a product perspective it doesn't change," CFO Michael Herring says, but "we will always look into optimizing our business and finding that balance between how much we want to emphasize the subscribers versus focus on ad sales."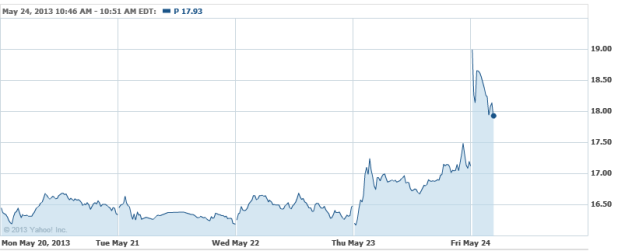 Disney (NYSE:DIS): DirecTV (NASDAQ:DTV) and Time Warner Cable (NYSE:TWC) have both submitted bids for Hulu, the streaming service operated by Disney and others — News Corp. (NASDAQ:NWSA) included. However, the media firms seem to be on their own, as private equity firms have so far stayed out of the bidding according to Guggenheim Partners, which is overseeing the sale.

Goldman Sachs (NYSE:GS): The Indian government has given the bank the go-ahead to create and ETFs for state-run companies, according to a senior official, in efforts to help the government raise money. Initially, the government intends to have 15 to 20 state-run firms in its ETF holdings.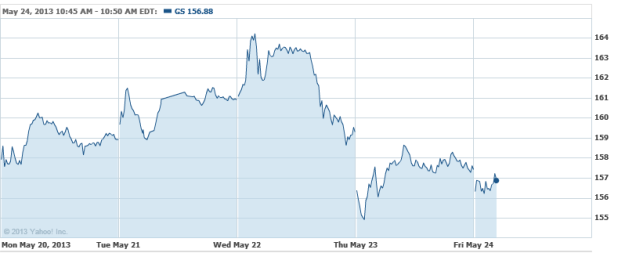 Covidien Plc (NYSE:COV): Covidien shareholders will receive one share of the new publicly traded company (Mallinckrodt) once it is fully spun off, for every share of Covidien that they own. Mallinckrodt is expected to begin trading on the NYSE on July 1, under the ticker MNK.

Don't Miss: Why Did Protesters Disrupt Cablevision's Meeting?