Panera, Starbucks, Chipotle: Invest in the Customer First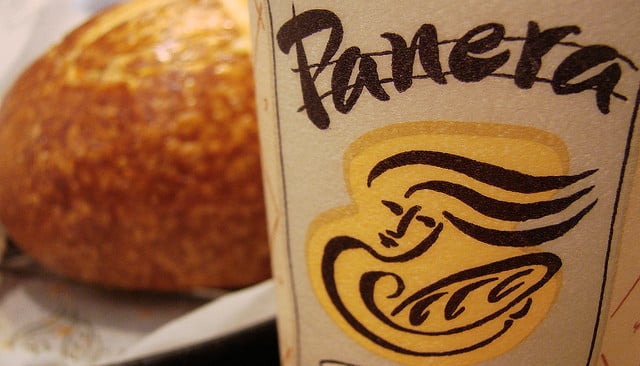 If you ask Panera (NASDAQ:PNRA) Chief Executive Ron Shaich, he might argue that it's all simply a matter of customer experience. Humans, burdened with bounded rationality, make mistakes. In the food industry, Shaich told Bloomberg Businessweek, one in seven orders is wrong. At Panera, the frequency drops to one in 10 — better, but still an enormous source of friction for the business. Think of it this way: In addition to the operational cost of correcting an order, you are harming the experience of 10 percent of your customers.
Panera competes in the quick-service arena with Chipotle Mexican Grill (NYSE:CMG) and Starbucks (NYSE:SBUX), both companies that understand that the customer experience is paramount. The pool of substitutable goods shared by these companies is enormous, and there is only really room for a cramped kind of product differentiation. This makes not just what they sell but how they sell it a critical part of business strategy. A higher-quality consumer experience than the competitor is an advantage that can win sales.
For a company like Panera, this means that the order error rate is more than just an operational issue. The cost is not all simply absorbed into the company — some of it is placed on the consumer. Reducing or eliminating this waste becomes important not just as a cost-reduction measure but as a means to attract and retain customers.
So how you do reduce or eliminate  order errors? According to Shaich, about half of all order errors happen when orders are entered into the system, a task performed by a human. If 50 percent of the problem is human error at the point-of-order entry, then one way to reduce the rate of order errors is to find a way to automate the process and remove the human from the workflow.
And this is exactly what Panera is doing. At the company's Investor Day Conference, executives unveiled "Panera 2.0," which, like most 2.0 initiatives, involves a tech-based rethinking of of some aspect of the businesses that is underperforming. In Panera's case, it arguably all started with wait times.
Panera suffers the blessing of high traffic — after a while, long lines and wait times started to become part of the brand. Sales growth has slowed each year since 2011 (compounded annual growth of 15.7 percent), and the competition hasn't idled. Although Chipotle's sales growth has also decelerated since 2011, it has grown faster, at a CAGR of 20.6 percent. Panera all but confirmed the suspicion that there was friction after reporting weak same-store sales growth of 0.1 percent in the first quarter, flat compared with the year-ago period. Panera executives pointed a finger at the weather, while Chipotle executives reported 13.4 percent same-store sales growth for the same period. (Starbucks lags this pack, with a CAGR of 11.64 percent.)
But addressing the underlying cause of the problem is challenging. Long wait times are a product of operational inefficiencies, and these issues are often best addressed by simply redesigning the system. For Panera, this means $42 million worth of new technology, or about $125,000 per store. This technology will take the shape of "Rapid Pick-Up" mobile and Web ordering, and "Enhanced To-Go and Eat-In," which involves the deployment of in-store ordering kiosks.
More importantly, it means a big change to the customer experience.
Speaking in a webcast presentation, Shaich clarified: "What Panera 2.0 is a vision for is not technology. A lot of people want to think like that, but what it really is a vision for is how we evolve the guest experience at Panera. It's how we care for the individual needs, the specific needs, of our to-go customers, of our eat-in customers and those customers who want it wherever they are, not where we are."
To be clear, Panera isn't exactly at the head of the pack here. Large-scale food delivery operations like Papa John's (NASDAQ:PZZA) already conduct an enormous share of transactions online, and companies like Boloco rolled out a kiosk-app system years ago. In many ways, Panera is catching up and is responding to a problem instead of proactively implementing some sort of innovation. But as tired as the idea of "Company 2.0″ is, the initiative is going to help. Wait times should decrease, and the quality of the customer experience should improve.
One of the big side effects of the 2.0 program is that it will allow Panera to make other changes. Executives should be able to focus more on alternative strategies like product or brand differentiation now that some of the operational friction has been addressed. Starbucks, which has lagged Panera in terms of growth, is a much larger company and is not shy about using its weight to its advantage. Starbucks has extended its reach into the coffee market through a relationship with Keurig Green Mountain (NASDAQ:GMCR) and has expanded its food and beverage offerings via the acquisitions of Evolution Fresh and La Boulange.
Panera is also making changes to its menu, but as part of the overall goal of first improving the customer experience. Only once customer experience issues have been addressed will Panera really have the luxury to be more creative with its strategy and seek advantages and efficiencies in other areas.
In an earlier article covering Panera's first-quarter earnings, Wall St. Cheat Sheet contributor Ben Kramer-Miller argued that the headwinds facing the company have made it an underwhelming investment. Here is that analysis:
"The company's profits declined from $48 million in the first quarter of 2013 to $42 million in the first quarter of 2014. This is despite the fact that revenues grew 8 percent.
"Panera Bread isn't the only restaurant chain that is seeing margin compression — we also saw something similar with Chipotle Mexican Grill. This company reported weaker margins that resulted from rising commodity prices and increased administrative expenses. But at least Chipotle was able to grow its earnings.
"Panera wasn't so lucky. At the same time, Panera's margin compression could be temporary. The company cites as its justification the fact that while it sold more food, it sold less food per restaurant. This was due to severe weather conditions. On the one hand, I find this a little disconcerting. Severe weather conditions shouldn't be an excuse, especially for a company that sells coffee and competes with Starbucks, which claimed that adverse weather conditions didn't impact its business.
"We must further wonder why the company didn't cite rising commodity prices as a reason for lower margins: This is a phenomenon that impacts the entire industry, not just a few unlucky companies. Given drought concerns in Brazil — where much of the world's coffee and sugar is grown, as well as California, where a lot of fruits and vegetables are grown — I am surprised that Panera didn't cite this. Furthermore, if rising commodity prices didn't impact Panera's business in Q1, it may impact it in subsequent quarters.
"Other than these concerns, I see an opportunity for Panera to improve its operations. Simply put, it needs to shut down less profitable locations. The 'weather excuse' aside, Panera seemingly expanded too quickly and in locations where its product isn't appreciated by consumers. While I wouldn't necessarily say that the company has saturated the United States, it might be wise to shut down a few of the least productive restaurants and perhaps attempt to open some locations overseas; the company now only operates in the United States and Canada. Were the company to make such an announcement, I would be more confident in its growth potential going forward, and I would be more willing to pay 22-times earnings for the stock.
"Another thing investors need to be concerned about is the fact that management has been so aggressively buying back stock. Considering that the shares now trade at a multiyear low, it is evident — with hindsight, of course — that these buybacks were not the best use of shareholder capital. I would like to see the company slow down the buyback and invest in improving its operations, or perhaps pay a small dividend.
"With these points in mind, I think Panera has a lot of promise. I think the company offers a compelling product that is inexpensive and gourmet at the same time while serving as a coffee shop and bakery. Given its emphasis on quality food in small portions, Panera has a leg up on Starbucks — but it hasn't operated up to its potential.
"With that being the case, I want to hold off on owning Panera shares for now. I am not so much waiting for a particular price point as I am waiting for a strategic announcement that answers the question: How is the company going to begin growing the way it was earlier in the 21st century? If the company can do this and demonstrate that it can navigate the competitive restaurant environment, I will buy the shares with enthusiasm. But for now, as the first-quarter earnings figures indicate, Panera hasn't reached this level of excellence, and it is not worth 22 times earnings."
More From Wall St. Cheat Sheet: