Parker Drilling Earnings: Swung to a Profit, But Shares Down
Parker Drilling Company (NASDAQ:PKD) reported its results for the first quarter. Parker Drilling Company provides land and offshore contract drilling services and rental tools on a worldwide basis to major, independent and national oil and gas companies and integrated service providers.
Don't Miss: Wall St. Cheat Sheet's newest Feature Trades of the Month!
Parker Drilling Company Earnings Cheat Sheet for the First Quarter
Results: Swung to a profit of $4.8 million (4 cents/diluted share) in the quarter. The oil and gas drilling and exploration company had a net loss of $2.1 million or a loss of 2 cents per share in the year earlier quarter.
Revenue: Fell 0.9% to $156.2 million YoY.
Actual vs. Wall St. Expectations: PKD reported adjusted net income of of 5 cents/share. By that measure, the company fell short of mean estimate of 6 cents/share. Estimates ranged from 4 cents per share to 8 cents per share.
Quoting Management: "Continued improvements in our U.S. markets provided the primary support for our first quarter results," began Parker Drilling President and Chief Executive Officer David Mannon. "We had another record performance from our Rental Tools segment and our U.S. barge drilling utilization and average dayrate continued to strengthen. In addition, our portfolio of projects and engineering services expanded during the quarter, though utilization of our international rig fleet remained at low levels. Overall, our diverse but related businesses provided a balanced performance that resulted in higher earnings," said Mannon.
Competitors to Watch: Pioneer Drilling Company (AMEX:PDC), Rowan Companies, Inc. (NYSE:RDC), Pride International, Inc. (NYSE:PDE), Helmerich & Payne, Inc. (NYSE:HP), Atwood Oceanics, Inc. (NYSE:ATW), Patterson-UTI Energy, Inc. (NASDAQ:PTEN), Allis-Chalmers Energy Inc. (NYSE:ALY), Hercules Offshore, Inc. (NASDAQ:HERO), Vantage Drilling Company (AMEX:VTG), and Seahawk Drilling, Inc. (NASDAQ:HAWK)
Stock Performance: Shares of PKD are down 4% from the previous close of $6.45.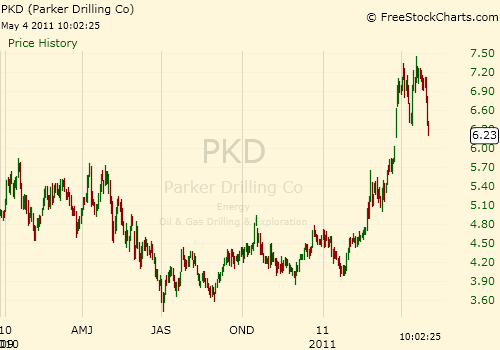 Don't Miss Wall St. Cheat Sheet's newest Feature Trades of the Month!