Paychex, Inc. Earnings: Profitable Quarter Accelerates Growth
S&P 500 (NYSE:SPY) component Paychex, Inc. (NASDAQ:PAYX) reported its results for the fourth quarter. Paychex, Inc. is a provider of comprehensive payroll, human resource, and benefits outsourcing solutions for small and medium sized businesses.
Don't Miss: Wall St. Cheat Sheet's newest Feature Trades of the Month!
Paychex Earnings Cheat Sheet for the Fourth Quarter
Results: Net income for the staffing and outsourcing services company rose to $118.9 million (33 cents/share) vs. $115.5 million (32 cents/share) in the same quarter a year earlier. A rise of 2.9% from the year earlier quarter.
Revenue: Rose 5.8% to $510.4 million YoY.
Actual vs. Wall St. Expectations: PAYX fell in line with the mean analyst estimate of 33 cents/share. Estimates ranged from 31 cents per share to 34 cents per share. Analysts were expecting revenue of $515.9 million.
Quoting Management: Martin Mucci, President and Chief Executive Officer, said, "We are pleased with our favorable results for fiscal 2011. Many of our key business indicators improved during the year. Most significantly, checks per client increased 2.1%, payroll services client retention improved two percentage points, and while the sales environment is still challenging, we have seen improvement in the latter half of the fiscal year in our core payroll sales. We increased our investment in product development, reached the highest levels of client satisfaction in our history, and acquired two software-as-a-service companies, SurePayroll and ePlan, to bolster our future growth."
Key Stats:
The company has now seen net income rise in three-straight quarters. In the third quarter, net income rose 16.6% and in the second quarter, the figure rose 6.4%.
Revenue has risen the past four quarters. Revenue increased 5.2% to $519.6 million in the third quarter. The figure rose 3.5% in the second quarter from the year earlier and climbed 4.1% in the first quarter from the year-ago quarter.
The company fell in line with estimates last quarter after topping expectations in the previous two quarters. In the third quarter, it topped the mark by one cent, and in the second quarter, it was ahead by 2 cents.
Competitors to Watch: Automatic Data Processing (NASDAQ:ADP), CBIZ, Inc. (NYSE:CBZ), Equifax Inc. (NYSE:EFX), American Express (NYSE:AXP), Dalrada Financial Corp. (DFCO), McMillan Shakespeare Ltd. (NYSE:MMS), Blue Tax Group SA (NYSE:BTG), Hilan Tech Ltd. (HLTC), and Colliers SA Holdings Ltd. (NYSE:COL).
Stock Performance: Shares of PAYX are up 1% from the previous close.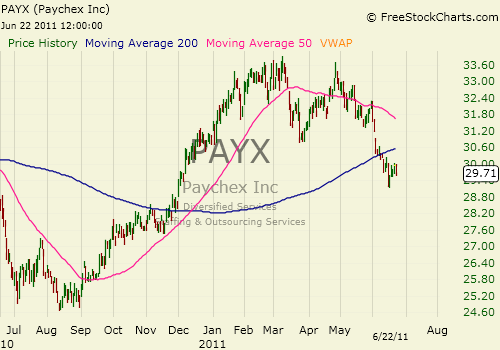 Don't Miss Wall St. Cheat Sheet's newest Feature Trades of the Month!
(Source: Xignite Financials)