Pepsi Earnings Impress Despite Soda's Struggles
PepsiCo Inc. (NYSE:PEP) reported earnings Wednesday morning that beat analyst expectations. The company announced earnings per share of $1.31, up from analyst expectations of $1.19. Revenue rose 2 percent to $16.81 billion, coming in slightly ahead of analyst forecasts that put the figure at $16.79 billion.
The company reported losses throughout its beverage businesses — and especially in carbonated soda beverages — as a general backlash against soda and its negative health effects continues to grow. Net revenue fell 2 percent for PepsiCo Americas Beverages, with non-carbonated beverages declining in the low single digits and carbonated beverages declining in the mid-single digits.
The soft drink business overall has declined, and soda makers are under increased pressure to turn toward healthier options like juice.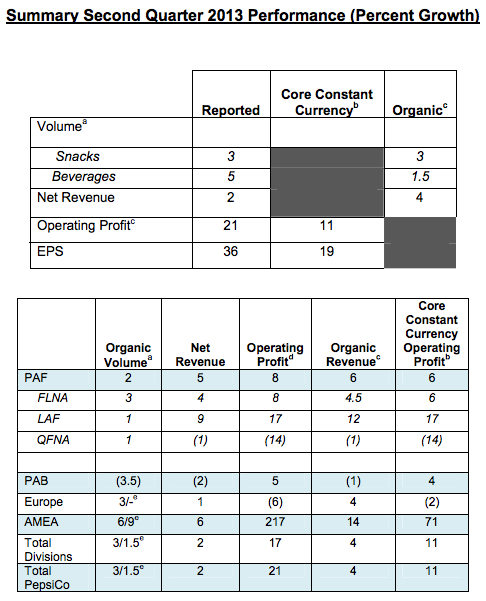 The world's largest snack maker reported net revenue growth of 4 percent for its Frito-Lay North American snack division and 9 percent for its Latin America Foods division. Surprisingly, net revenue for Quaker Foods North American fell 1 percent. The company had been planning to focus more closely on Quaker as Americans become increasingly health and food conscious in the face of the obesity epidemic.
Pepsi has recently been shifting its focus to its healthier brands including Sabra Dipping Co., a joint venture with Israel's Strauss Group Ltd. most famous for its hummus, and a partnership with German dairy company Theo Muller Group to jump in on the growing yogurt market in the U.S.
Pepsi can use its snack businesses to outweigh losses in beverages. Analyst Nelson Peltz recently told CNBC that he believes Pepsi should consider purchasing Oreo maker Mondelez International (NASDAQ:MDLZ) as a response to the decline in the soft drink industry.
After reporting earnings, PepsiCo Chief Financial Officer Hugh Johnston dismissed that suggestion in a CNBC interview cited by Reuters, saying, "We think PepsiCo as a portfolio is working so well right now and the complexity of taking on an $80 billion acquisition and somehow trying to do all that integration, frankly, will distract the business from doing what it is that we're doing right now, which is creating a lot of value for shareholders."
Chairman and CEO Indra Nooyi said in the company's earnings statement: "Importantly, we maintained disciplined, balanced pricing that, together with our productivity initiatives, translated to healthy margin improvement. In the second quarter, we increased both gross margins and operating margins by more than 100 basis points. Our results in the first half give us even greater confidence in achieving our financial goals for the full year. We remain focused on driving marketplace execution, maintaining discipline in our capital allocation and delivering on our financial targets to create longterm value for our shareholders."
In the U.S., Pepsi's biggest market, the company was able to maintain market share in salty snacks and improved volume and market share in beverages. Pepsi is looking great Wednesday morning, as its earnings not only exceeded analyst expectations but also beat out rival Coca-Cola Co.'s (NYSE:KO) disappointing second-quarter earnings reported earlier this month.
Follow Jacqueline on Twitter @Jacqui_WSCS
Don't Miss: Starbucks Goes Greek with Latest Food Offering.