Pepsi Helps In Muller Expansion, STMicroelectronics Eyes Ambitious Growth, and 3 More Hot Stocks
PepsiCo. (NYSE:PEP): Pepsi is working with Muller to open a new yogurt plant in New York state, to increase the presence of Muller-branded products in the United States. Though Muller is already sold in some parts of America, the company is looking to bank on the spike of yogurt consumption over the last couple of years, and offer stronger competition to Danone, Chobani, et al.

STMicroelectronics (NYSE:STM): CEO Carlo Bozotti told Le Figaro that he is seeking order growth of 5 to 10 percent this year, following an increase of 5 percent in the first quarter alone. Bozotti points out that every 1 percent change in the euro-dollar rate "has an impact of 35 million [euros] on operating profit per year." Eventually, the company hopes to hit an annual turnover of $9 billion — certainly plausible, as the figure was $8.49 billion in 2012.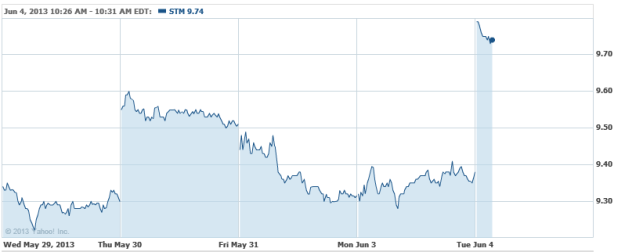 Smithfield Foods (NYSE:SFD): Continental Grain is opting to sell its 5.84 percent stake in Smithfield, rather than engaging in a proxy battle to split the pork producer into three units, the Grain company said on Monday. "In light of the announced transaction, we have elected to exit our long-term ownership position in Smithfield because we are satisfied with our investment return," Continental's chief executive, Paul Fribourg said, referring to Smithfield's acquisition by Shuanghui International Holdings of China.

AstraZeneca (NYSE:AZN): The pharmaceutical giant is taking a $140 million charge for the decision not to seek approval for its rheumatoid arthritis pill Fostamatinib following mixed results in Phase II and III trials. The tests included a comparison to Abbott Laboratories' (NYSE:ABT) Humira, and showed no significant additional benefits when viewed side by side. "The results of the late-stage trials did not measure up to the promising results we saw earlier in development," said Briggs Morrison, executive vice president of AstraZeneca's global medicines development.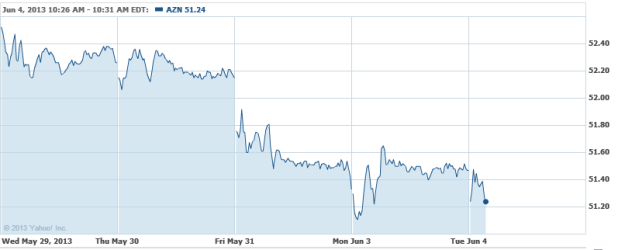 Investing Insights: Is Dunkin' Brands a Sweet Investment?