Pepsi Ups Its Dividend, OfficeMax Doesn't, and 3 Other Hot Stocks to Watch
PepsiCo. (NYSE:PEP): Following a strong first quarter, the soft drinker maker has declared its 41st consecutive annual dividend increase. The quarterly dividend of $0.5675 will be payable on June 28, to shareholders of record as of June 7. Since the start of 2002, PepsiCo has returned more than $58 billion to shareholders in the form of dividends and share repurchases, the press release said, adding that the company expects to return more than $6 billion to shareholders in 2013.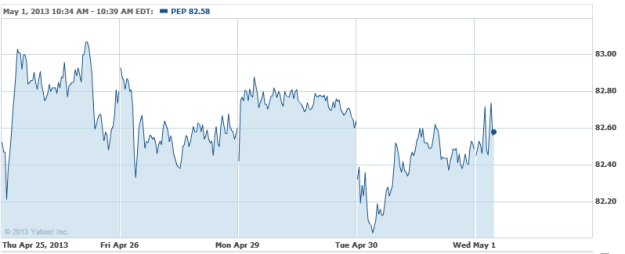 OfficeMax (NYSE:OMX): The company has declared a $0.02 per share quarterly dividend, falling in line with its previous dividends. It has a forward yield of 0.70 percent, and will be payable on May 31st for shareholders of record May 15th. The ex-dividend date is May 13th.

CostCo Wholesale (NASDAQ:COST): It's dividend season, and Costco is jumping on. It has declared $0.09 per share quarterly dividend, which is 12.7 percent over its prior dividend of $0.275. The forward yield 1.14 percent, will be issued to shareholders of record May 14th, and payable June 14th. The ex-dividend date is May 10th.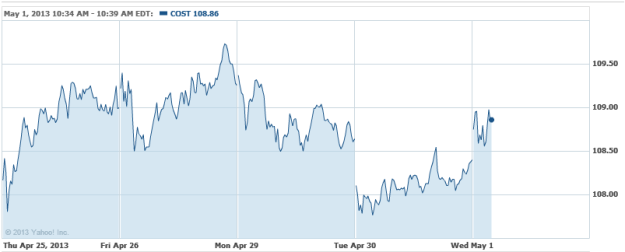 MasterCard (NYSE:MA): Earnings per share of $6.23 were enough to beat estimates by $0.06, although revenues of $1.9 billion fell shy by $0.03. Although transactions processed and gross dollar volume increased by double-digit figures, the company also felt slides related to more rebates and incentives during the period. Personnel expenses caused operating expenses to growth 6 percent over the same period last year, but margins improved simultaneously.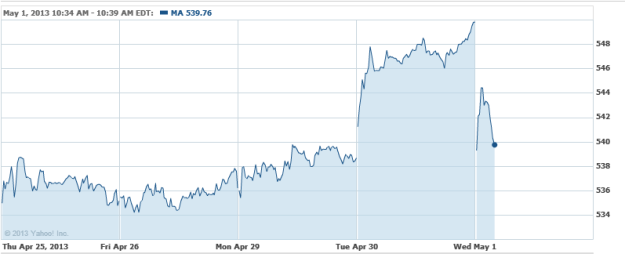 BMC Software (NASDAQ:BMC): A partnership between Bain Capital LLC and Golden Gate Capital has stood out as the favored suitor for BMC Software, which is on the market for $6.5 billion, or $45-$50 per share. If successful, the deal could be one of the largest leveraged buyouts so far this year.

Investing Insights: Will Dunkin' Brands Break Out?