PepsiCo Earnings: Processed and Packaged Good Dragged Down Profits
Rising costs did not help S&P 500 (NYSE:SPY) component PepsiCo Inc. (NYSE:PEP) in the first quarter as profit dropped from a year earlier. PepsiCo, Inc. is a global company that manufactures a variety of salty, convenient, sweet and grain-based snacks, carbonated and non-carbonated beverages and foods.
Don't Miss: Wall St. Cheat Sheet's newest Feature Trades of the Month!
PepsiCo Earnings Cheat Sheet for the First Quarter
Results: Net income for the processed and packaged goods company fell to $1.14 billion (71 cents/share) vs. $1.43 billion (89 cents/share) a year earlier. A decline of 20.1% from the year earlier quarter.
Revenue: Rose 27.4% to $11.94 billion YoY.
Actual vs. Wall St. Expectations: PEP reported adjusted net income of 74 cents per share, barely missing the mean analyst estimate of 73 cents/share. Estimates ranged from 70 cents per share to 77 cents per share.
Quoting Management: PepsiCo Chief Financial Officer Hugh Johnston said, "Strong top-line performance in the first quarter translated to solid financial results. As expected, we are experiencing a high level of input cost inflation, which we are addressing with productivity programs, prudent pricing actions and systematic hedging that give us good visibility into our cost outlook for the year. We are executing as planned and remain confident in our full-year outlook."
Key Stats:
The company has enjoyed double-digit year-over-year revenue growth for the past five quarters. Over that span, the company has averaged growth of 31.4%, with the biggest boost coming in the third quarter of the last fiscal year when revenue rose 40% from the year earlier quarter.
The company has now seen net income fall in each of the last two quarters. In the fourth quarter of the last fiscal year, net income fell 4.8% from the year earlier quarter.
Gross margins grew two percentage points to 54.4%. The growth seemed to be driven by increased revenue, as the figure rose 27.4% from the year earlier quarter while costs rose 22%.
Competitors to Watch: The Coca-Cola Company (NYSE:KO), Dr Pepper Snapple Group Inc. (NYSE:DPS), Coca-Cola Enterprises Inc. (NYSE:CCE), Hansen Natural Corporation (NASDAQ:HANS), Reed's, Inc. (NASDAQ:REED), Cott Corporation (NYSE:COT), National Beverage Corp. (NASDAQ:FIZZ), Jones Soda Co. (NYSE:USA) (NASDAQ:JSDA), Celsius Holdings, Inc. (NASDAQ:CELH), and Fomento Economico Mexicano SAB (NYSE:FMX).
Today's Performance: Shares of PEP are trading at $67.75 as of April 28, 2011 at 8:59 AM ET, down 0.26% from the previous close.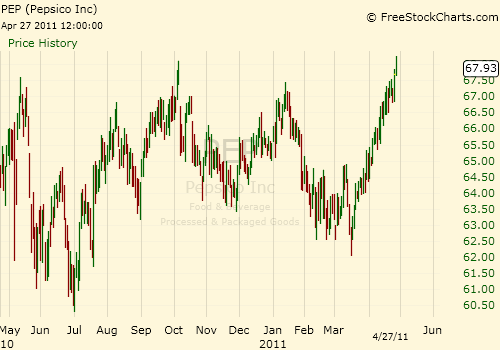 Don't Miss Wall St. Cheat Sheet's newest Feature Trades of the Month!