PerkinElmer Earnings: Net Income Falls on Higher Revenues
S&P 500 (NYSE:SPY) component PerkinElmer, Inc. (NYSE:PKI) reported its results for the first quarter. PerkinElmer, Inc. provides technology, services and solutions to the environmental monitoring, diagnostics, academic research and safety security markets.
Don't Miss: Wall St. Cheat Sheet's newest Feature Trades of the Month!
PerkinElmer Earnings Cheat Sheet for the First Quarter
Results: Net income for the medical instruments and supplies company fell to $23.5 million (20 cents/share) vs. $24.4 million (21 cents/share) a year earlier. A decline of 3.6% from the year earlier quarter.
Revenue: Rose 13% to $447.9 million YoY.
Actual vs. Wall St. Expectations: PKI reported adjusted net income of of 34 cents/share. By that measure, the company beat the mean estimate of 31 cents/share. Estimates ranged from 30 cents per share to 32 cents per share.
Quoting Management: "We are pleased to have started 2011 with better than expected growth in both revenue and adjusted earnings per share," said Robert Friel, chairman and chief executive officer of PerkinElmer. "Our investments in new products, services and geographic expansion, coupled with the traction gained on our multi-year productivity initiatives continue to generate strong financial results."
Competitors to Watch: Thermo Fisher Scientific Inc. (NYSE:TMO), Waters Corporation (NYSE:WAT), Beckman Coulter, Inc. (NYSE:BEC), Bruker Corporation (NASDAQ:BRKR), Harvard Bioscience, Inc. (NASDAQ:HBIO), Agilent Technologies Inc. (NYSE:A), Caliper Life Sciences Inc. (NASDAQ:CALP), Becton, Dickinson and Co. (NYSE:BDX), Bio-Rad Laboratories, Inc. (NYSE:BIO), and Sequenom, Inc. (NASDAQ:SQNM)
Stock Performance: Shares of PKI are unchanged at $27.80 in after hours trading.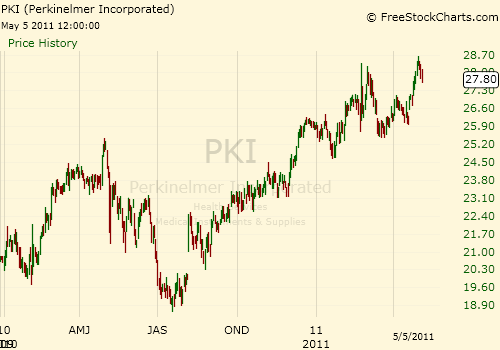 Don't Miss Wall St. Cheat Sheet's newest Feature Trades of the Month!