Perlmutter Exits Intel After Losing Out to Krzanich and 2 More Heavily Traded Stocks to Follow
Intel Corp. (NASDAQ:INTC): Current price $23.72
In a Wednesday filing, Intel announced that the senior executive David Perlmutter, who developed tech that was crucial to the success of laptop PCs, is exiting after 34 years at the company. Intel's board passed Perlmutter by for the job of chief executive officer earlier in May, and now the filing indicated that he will leave in February to pursue other opportunities. When Krzanich was appointed, Perlmutter was sidelined after the former rapidly reorganized the chipmaker's main product groups.

Broadcom Corp. (NASDAQ:BRCM): Current price $26.32
Broadcom shares are down by more than 3 percent Wednesday, after the firm posted stronger than forecast third quarter results, but provided fourth quarter revenue guidance that was short of consensus. The tech company explained that it is faced with several headwinds in the fourth quarter, including weak wireless connectivity demand, "intense competition" in the low-end 3G platform market, disappointing demand for broadband access components, and seasonal slides in its infrastructure business.

Stereotaxis Inc. (NASDAQ:STXS): Current price $5.03
Stereotaxis said Wednesday that Japan's Ministry of Health, Labor and Welfare has classified its Niobe Magnetic Navigation System as a C2 medical device. The C2 classification recognizes the Niobe system as a new, distinctive tech having clinical benefits, and is the highest of five reimbursement categories for medical devices in Japan. The Ministry also okayed reimbursement for two electrophysiology ablation catheters compatible with Niobe magnetic navigation, effective October 1.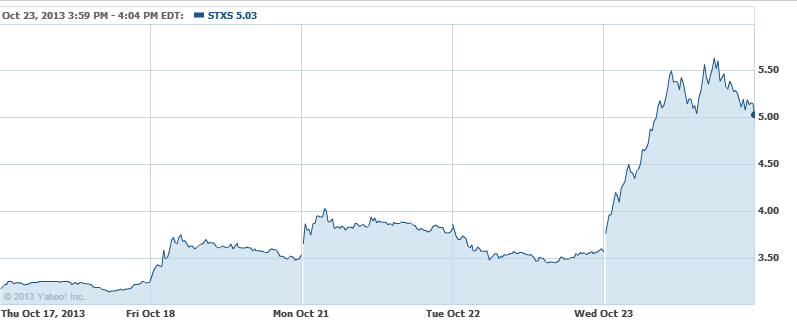 Don't Miss: Did Caterpillar Just Dig a Bigger Earnings Hole?