Perry Corp. Lowers JCPenney Stake but Shares Rise and 2 Other Hot Stocks to Watch
 J.C. Penney Co. (NYSE:JCP): Current price $8.89
Late Monday, the Hedge fund Perry Corp. said it has lowered its position in J.C. Penney to 3.28 percent, or 10 million shares, assuming the dilution effect of Penney's 84-million share sale offering last week. Perry had just increased its position by 3 million shares to 19 million or 8.62 percent in late August following Bill Ackman of Pershing Square Capital Management divesting his 18-percent stake in Penney, conceding his failure in remaking the historic retailer. However, shares are up about 1.3 percent on Tuesday, perhaps attributable to bargain hunters. The gain follows the stock falling in 13 of the last 15 sessions to close at an almost 13-year low Monday.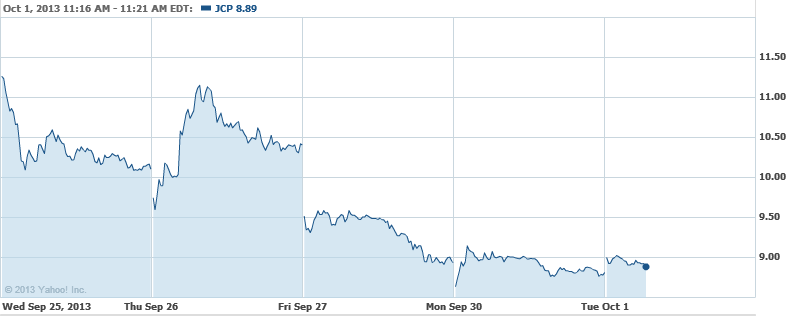 Dell Inc. (NASDAQ:DELL): Current price $13.82
On Tuesday, Dell Software announced that NetVault Backup, its enterprise data protection solution, has been fully integrated with the Dell DR4100, which is a scalable, disk backup appliance with built-in deduplication and compression capabilities. The integration highlights Dell Software's ongoing endeavors to deliver integrated, end-to-end solutions that address the most salient customer challenges, including the need to transform data centers to produce increased efficiency and scalability and also the need to guard critical data and information across the enterprise.
Seamless integration between NetVault Backup and the DR4100 permits customers to minimize network traffic, shrink backup  windows, and maximize storage savings while protecting critical data spanning a wide range of operating systems and applications running in complex physical and virtual environments.

Edgen Group Inc. (NYSE:EDG): Current price $11.89
Bernstein Liebhard LLP is looking into whether the board of Edgen Group Inc. breached its fiduciary duty to its shareholders in agreeing to sell Edgen Group to Sumitomo Corp. Through the terms of the acquisition, Edgen Group shareholders will receive $12 in cash for each share they hold. The inquiry is centered upon the potential unfairness of the price to Edgen Group shareholders and the process by which the Edgen Group 's board considered and confirmed the transaction.

Don't Miss: Are Dreamliner Problems Affecting Boeing?