Pessimism Surrounds J.C. Penney and 4 Other Hot Stocks
Neither investors nor analysts show much enthusiasm in post-Ron Johnson J.C. Penney's (NYSE:JCP) fortunes. In fact, the stock is down over 11 percent and analysts are fretting over the impending crises in the shape of the Martha Stewart trial, the low morale pervasive across the company, and a likely cash burn of over $1 billion this year. And don't forget the overhang of Bill Ackman's holdings, should he decide to cut his losses and exit. Not surprisingly, calls for a sale or breakup of the company are getting louder. Also worrying analysts is the fact that Penney is going back to Mike Ullman, the very man who was first ousted because of troubles at the retailer. "Ullman … he didn't really go out on the wings of glory, and now they bring the guy back? I honestly think no one else wanted the job," says Brian McGough, managing director and head of the retail group at Hedgeye Risk Management. "He is also the one who left Penney in this situation, who brought it to the point they felt they needed a radically new approach," says Kathy Gersch, co-founder of strategic advisers Kotter International. "The risk is that they over-correct and throw out everything Ron did."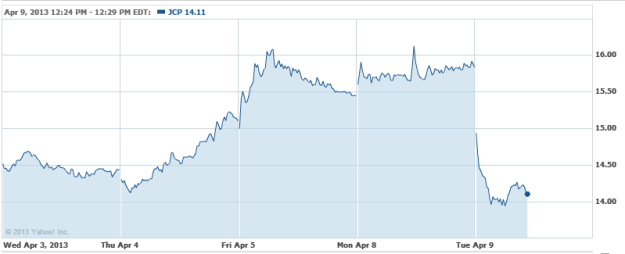 An insight into emerging database trends is provided by this article in Barrons. SAP AG (NYSE:SAP) may evolve its Hana in-memory database out of data analytics into data processing and thereby strengthen its cloud computing ambitions. A vision of the cloud: "The hybrid cloud would be say the ERP system running on HANA at the SAP data center and say the CRM system running on HANA at the customer site and these systems will need to work together as if they were running on the same site." Microsoft (NASDAQ:MSFT) appears to be targeting the data analytic market opportunity and the next release of its SQL Server could implement the facility "to have SQL Server function as the transactional system with the performance advantages of an in-memory system, yet offer the familiar SQL Server platform for developers and customers." On Oracle (NASDAQ:ORCL) the company appears to have confined its in-memory function to its TimesTen line, but may offer extensions to its Oracle 12C database to make it compatible with in-memory functionality in TimesTen.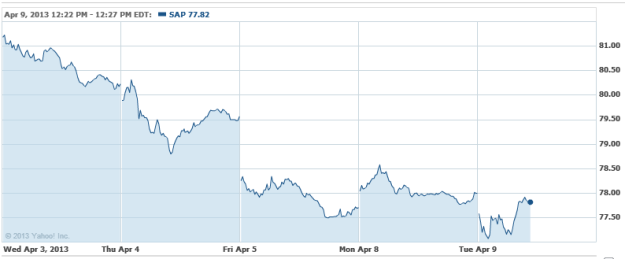 Internet radio service Pandora (NYSE:P) announces that it achieved a significant milestone of 200 million registered users in the US, nearly 8 years after the launch of the radio service in the summer of 2005. Significantly, the service added 100 million users in just the last two years. Other notable achievements, displayed on its infographic, reveal the service plays 200 million songs before 10 AM every day, and that listeners have personalised their radio stations with more than 25 billion 'thumbs.'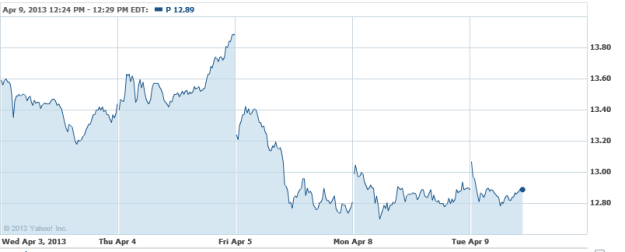 Fast-growing Turkish Airlines commits to buying 70 narrow bodied aircraft worth $6.9 billion from Boeing (NYSE:BA) by 2021. According to Boeing the carrier's commitment included 40 B737 MAX 8s, 10 B737 MAX 9s and 20 B737-800 aircraft, with an option for an additional 25 B737 MAX 8s. The order on Boeing comes on the heels of another order the airline placed on Boeing rival Airbus for 170 narrow bodied planes. Turkish Airlines earned revenues of nearly $8 billion last year and is targeting annual sales of $18 billion within the next seven years.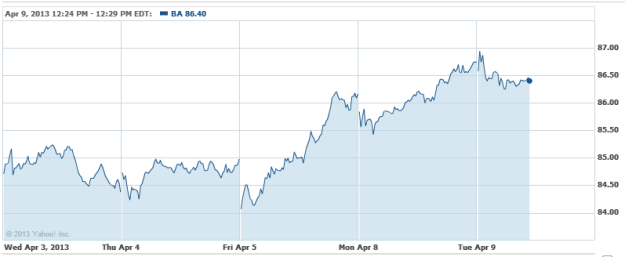 Don't Miss: Are Investors Running to the Hills with Jim Rogers?