Petrobras Places $500-Million Order For Subsea Trees and 2 Other Hot Stocks To Watch
Petroleo Brasileiro Petrobras (NYSE: PBR): Current price $13.22
On Wednesday, FMC Technologies said it received an order from Petrobras for a supply of subsea trees for its offshore pre-salt fields in Brazil. The value is estimated at around $500 million and represents the call-off of the remaining value of the $1.5-billion arrangement announced in March last year. The order contains 49 subsea trees, tooling, and associated subsea controls. The trees are set to be installed in multiple pre-salt fields for both output and injection wells. The equipment will be designed and made at FMC Technologies' facilities in Brazil.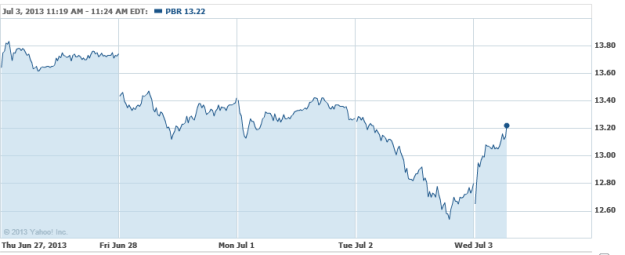 Ford Motor Co. (NYSE:F): Current price $16.34
Ford engineers are developing highly flexible, patented tech that will be used to quickly form sheet metal parts to be used in low-volume production applications. Once fully developed, the tech will permit lower costs and ultrafast delivery times for prototypes — reportedly within three business days, compared to conventional methods that can take from two to six months. Automotive applications include prototyping, concept vehicles, and vehicle personalization, with other applications related to defense, aerospace, transportation, and appliance industries.

Linn Energy (NASDAQ:LINE): Current price $24.17
The law firm Wohl & Fruchter says it is looking into possible violations of federal securities statutes by officers and directors of Linn Energy. On Monday, Linn reported it is being investigated by the Securities and Exchange Commission in regards to its utilization of non-generally accepted accounting principles financial measures, its hedging strategies, and its joint purchase of Berry Petroleum Company with affiliate Linn Co. Prior to this, Barron's and Kevin Kaiser, a senior analyst with HedgeEye  Risk Management, contended the company was using non-GAAP accounting to conceal a sizable weakness in its cash flows, which questions the sustainability of its dividend.