Petrobras Will Sell Oil & Gas Assets in Peru to PetroChina and 2 More Heavily Traded Stocks to Follow
Petrobras – Petróleo Brasileiro (NYSE:PBR): Current price $16.39
Petrobras has reached an agreement to divest its Peruvian oil and gas assets to PetroChina, China's number-one oil and gas company, and its parent China National Petroleum Corp. at a price of $2.6 billion. The Brazilian giant had been wanting to sell its foreign assets so as to center on tapping huge deposits found off the Atlantic coast, and said the transaction signed on Wednesday still requires the approval of the Chinese and Peruvian governments. The Chinese firms will buy all the shares of Petrobras Energia Peru S.A., which has three oil and gas fields in Peru.

JetBlue Airways Corp. (NASDAQ:JBLU): Current price $8.53
JetBlue on Wednesday commemorated the opening of its customer contact center at JetBlue University in Orlando. This facility will complement the airline's primary contact center in Salt Lake City. President and Chief Executive Dave Barger commented that, "We may be New York's Hometown Airline, but Orlando is our 'home away from home.' Orlando is home to our state-of-the-art training facility, JetBlue University, so it is only fitting to have our second contact center housed here. Over the next five years, we will welcome 500 new crewmembers to JetBlue to support our contact center needs."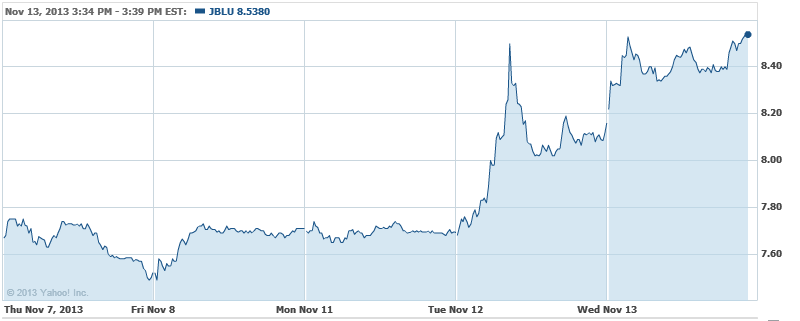 General Motors Co. (NYSE:GM): Current price $38.12
Shares of General Motors are up around 4 percent Wednesday, setting a new 52-week high after analysts praised news that the automaker could be free of United States government ownership by the end of 2013. In its monthly report to Congress, the Treasury Department reported that it sold $1.2 billion worth of General Motors stock last month. The report did not reveal the quantity of shares sold, but the government's stake in of the company is probably less than 4 percent now. Analyst Michael Ward at Sterne Agee wrote in a note to investors on Wednesday that, "We believe the exit will be complete by year-end, which, in our view, is a positive catalyst for the stock."

Don't Miss: 6 Weekend Cars for the Wealthy that Command 6 Figures.