Petroleum Development Corp Earnings: Swung to a Loss and Shares Drop 4.5%
Petroleum Development Corporation (NASDAQ:PETD) swung to a first quarter loss, but results topped expectations. Petroleum Development Corporation is an independent energy company engaged in the exploration, development, production and marketing of oil (NYSE:USO) and natural gas (NYSE:UNG).
Don't Miss: Wall St. Cheat Sheet's newest Feature Trades of the Month!
Petroleum Development Earnings Cheat Sheet for the First Quarter
Results: Swung to a loss of $19.9 million (85 cents/diluted share) in the quarter. The Petroleum Development Corporation had a net income of $23.7 million or $1.23 per share in the year earlier quarter.
Revenue: Fell from $126.3 million to $57 million from the year earlier quarter.
Actual vs. Wall St. Expectations: PETD reported adjusted net income of of 12 cents/share. By that measure, the company beat the mean estimate of 3 cents/share. Estimates ranged from a loss of 9 cents per share to a profit of 18 cents per share.
Quoting Management: Richard W. McCullough, Chairman and Chief Executive Officer, stated, "We were extremely pleased with our production for the quarter which exceeded our previously released guidance. All of our drilling programs are on, or ahead of pace for the year. We also completed approximately 60 refrac/recompletion projects in our Wattenberg prospect during the quarter, well ahead of plan. We're also particularly encouraged by our horizontal programs in the Marcellus and Niobrara areas and initial production results from our recent horizontal wells drilled in the northeast fringe of the core Wattenberg field. We expect production and cash flows to continue their strong growth trend throughout the year as we continue to execute our drilling plans."
Competitors to Watch: Pinnacle Gas Resources, Inc. (PINN), Questar Corporation (NYSE:STR), BreitBurn Energy Partners L.P. (NASDAQ:BBEP), Legacy Reserves LP (NASDAQ:LGCY), PostRock Energy Corp. (NASDAQ:PSTR), Marathon Oil Corporation (NYSE:MRO), BP plc (NYSE:BP), ExxonMobil (NYSE:XOM), Chevron (NYSE:CVX), Chesapeake (NYSE:CHK), Hess Corp. (NYSE:HES), Pioneer Southwest Energy Partners L.P. (NYSE:PSE), and NGAS Resources, Inc. (NASDAQ:NGAS)
Stock Performance: Shares of PETD are down 4.5% to $37 per share from the previous close.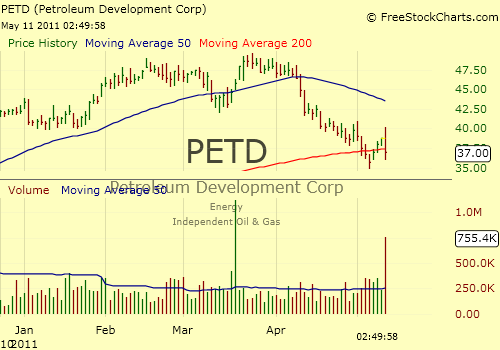 Don't Miss Wall St. Cheat Sheet's newest Feature Trades of the Month!