Pfizer and 3 Dow Healthcare Stocks Driving Headlines This Week
Pfizer (NYSE:PFE): Current price $30.14
Levi & Korsinsky says that a class action lawsuit has begun in the United States District Court for the Southern District of New York, on behalf of investors who purchased Wyeth, now part of Pfizer stock between July 21, 2008 and July 29, 2008. The complaint claims that the defendants violated securities laws by trading on, and profiting from, material non-public information linked with disappointing clinical trial results for the drug Bapineuzumab (AAB-001), which was an Alzheimer's treatment that was being jointly developed by Wyeth and Elan Corporation. The complaint alleges that defendants avoided roughly $40.4 million in losses on their long positions and obtained a $16-million profit from the short positions opened the week prior to the July 29, 2008 disclosure of detailed results of the clinical trial for Bapineuzumab.
Late Thursday European authorities adopted a negative opinion in regards to Pfizer's rheumatoid arthritis drug Xeljanz, after which shares slid by 2.8 percent to $29.41 in moderate volume. The Committee for Medicinal Products for Human Use of the European Medicines Agency recommended against a marketing application for the drug, noting that it did not exhibit a favorable risk/benefit profile, said the firm.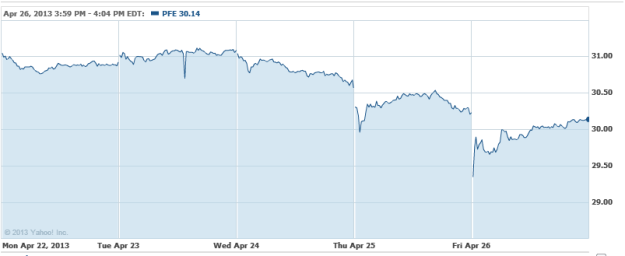 Don't Miss: Can Harrison Ford Save Flights From Budget Cuts?
Merck & Co. (NYSE:MRK): Current price $47.90
Merck and Bristol-Myers Squibb Company (NYSE:BMI) will conduct a mid-stage clinical trial of a drug regimen created to treat the most common type of the hepatitis C virus. The trial will examine a combination of Bristol's drug daclatasvir, and Merck's MK-5172. Merck will run the trial in which patients suffering from genotype 1 hepatitis C will be monitored. Hepatitis C is both the most common type of the virus and the hardest to treat. Bristol-Myers is running late-stage trials of daclatasvir and MK-5172 is in mid-stage testing.
On Wednesday, the FDA awarded breakthrough therapy status to Merck's cancer therapy Lambrolizumab, a move that could speed up development of the drug. Merck reported that the drug received breakthrough status as a treatment for advanced melanoma; the firm recently began a mid-stage clinical trial of Lambrolizumab and said it is also evaluating the drug as a treatment for other types of cancer. Beyond that, the company said that the drug is designed to use the immune system to fight cancer.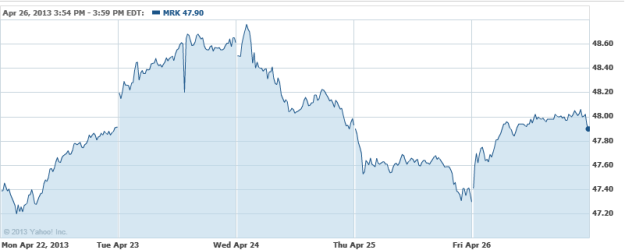 UnitedHealthcare Group Incorporated (NYSE:UNH): Current price $59.53
The group has been honored with three 2013 ClearMark Awards from the Center for Plain Language. ClearMark Awards commemorate the best in clear communication and plain language from government agencies, nonprofit organizations and private companies, and the 2013 awards were announced at a ceremony at the National Press Club in Washington on April 16. UnitedHealthcare has earned ClearMark Awards for three straight years in recognition of its endeavors to simplify health care communications for its customers.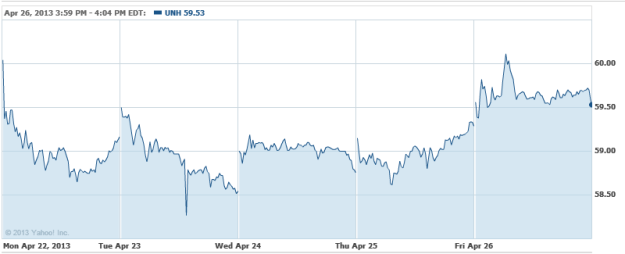 Investing Insights: Is Vivus Undervalued?
Johnson & Johnson (NYSE:JNJ): Current price $85.08
J&J will host a review of its Pharmaceuticals Business for the Investment Community beginning at 8:30 a.m. Eastern Time on May 23 at the Hyatt Regency Hotel in New Brunswick, New Jersey, and ending at about 3:00 p.m. Paul Stoffels, M.D., Worldwide Chairman Pharmaceuticals, and Chief Scientific Officer and Joaquin Duato, Worldwide Chairman, Pharmaceuticals will conduct the meeting, which will also feature presentations from the therapeutic area leaders inside the Pharmaceuticals Research and Development organization.
At its annual shareholder meeting in New Brunswick, New Jersey, the firm revealed its first corporate-branding campaign in a decade. The television ads will start airing on May 6th, and a print ad will appear in People and The New York Times on May 10th, according to Vice President of global corporate affairs Michael Sneed, who said that the central theme of the new ads is love, "an expression of what people do when they care unconditionally for others. That comes out of the history of J&J."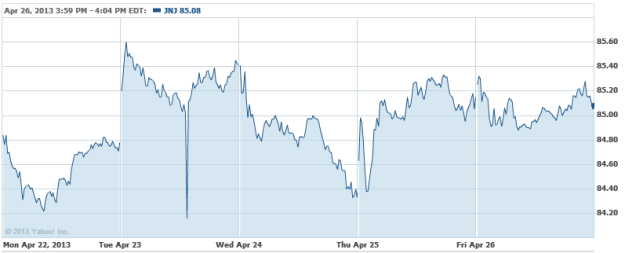 Don't Miss: Are Gun Stocks Ignoring Obama and Congress?