Pfizer Announces Top-Line Celecoxib Results and 2 Other Hot Stocks to Watch
Pfizer (NYSE:PFE): Current price $30.49
On Thursday, Pfizer announced top-line results for a Phase 4 clinical trial in which the primary goal was to measure blood pressure among pediatric patients suffering from Juvenile Idiopathic Arthritis, taking celecoxib (Celebrex) capsules or naproxen. The results indicated that there was virtually no difference in changes to systolic blood pressure, the primary endpoint, and diastolic blood pressure, the secondary endpoint, between the celecoxib and naproxen treatment groups. The safety profile was found to be similar in both groups.

Plains Exploration & Production Company (NYSE: PXP): Current price $45.29
Plains Exploration's Phobos-1 well co-owner Anadarko Petroleum Corporation (NYSE: APC) announced Thursday the the Phobos bore in the deepwater Gulf of Mexico met about 250 net feet of high-quality oil pay in Lower Tertiary-aged reservoirs. The Phobos find, lyed in Sigsbee Escarpment block 39, was drilled to a total depth of 28,675 feet in roughly 8,500 feet of water, around 11 miles south of Anadarko's Lucius discovery, which is being developed. Anadarko is the operator of the Phobos discovery with a 30 percent working interest; other co-owners in Phobos are Plains with a 50-percent working interest and Exxon Mobil Corporation with a 20-percent interest.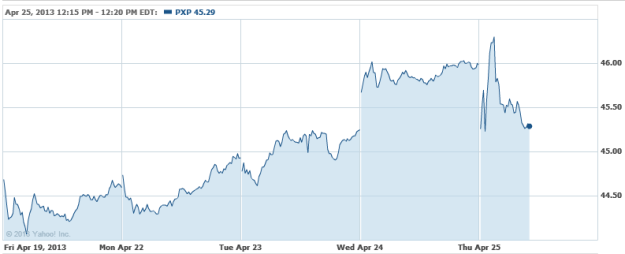 BlackBerry (NASDAQ: BBRY): Current price $14.86
BlackBerry's new Q10 smartphone will be available for preorder for business customers on T-Mobile's website April 29, said an online statement by the carrier, according to Chris Neiger at The Motley Fool. The report added that the Q10 will feature 4-gigabyte LTE connectivity, along with a physical keyboard and touchscreen display. This new smartphone will become one of a the firm's growing arsenal of T-Mobile 4-gigabyte LTE phones, including its recent iPhone, which debuted on the carrier earlier in April.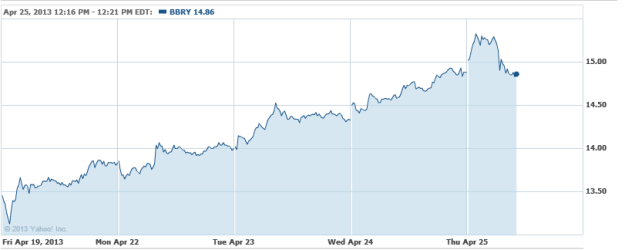 Don't Miss: Is Apple Debt Safer Than U.S. Government Debt?