Pfizer & Bristol-Myers See Positive Eliquis Test Results and 2 More Heavily Traded Stocks To Follow
Pfizer (NYSE:PFE): Closing price $27.64
Pfizer and partner Bristol-Myers Squibb Co. recently presented encouraging data concerning their drug Eliquis (apixaban) from a phase III evaluation AMPLIFY. The randomized, double-blind, multicenter six-month study examined Eliquis as a monotherapy compared to the standard of care of Sanofi's Lovenox (enoxaparin) and warfarin in patients suffering with acute venous thromboembolism, which includes symptomatic deep vein thrombosis and/or pulmonary embolism. Data from the study showed the non-inferiority of Eliquis to the current standard of care in lowering of the composite endpoint of recurrent symptomatic VTE or death linked with VTE.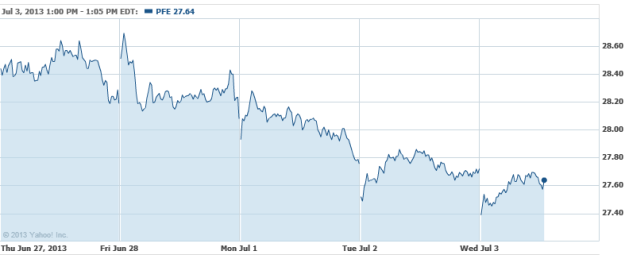 Bank of America Corp. (NYSE:BAC): Closing price $12.82
The Delaware Supreme Court is looking at whether former shareholders of Countrywide Financial Corp. can pursue a lawsuit filed prior to the company's acquisition by Bank of America in 2008. The Delaware justices have been requested by a federal appeals court to clarify whether former Countrywide shareholders may continue a federal lawsuit filed in California through a "fraud exception" in Delaware law. Previously, judges in Delaware and California decided the buyout eliminated the shareholders' standing through which to pursue their derivative claims.

Cole Real Estate Investments (NYSE:COLE): Closing price $11.58
Cole announced the acquisition of three Class A office properties by the Cole Corporate Income Trust at a price of $160.8 million. The properties are located in Texas and Massachusetts, and include a multi-building Allstate corporate campus, corporate headquarters for Men's Wearhouse, and a newly built office building that houses a multi-specialty medical practice operated by Harvard Vanguard Medical Associates. The income trust invests mostly in strategic single-tenant, income-generating necessity corporate properties leased to creditworthy tenants through long-term net leases.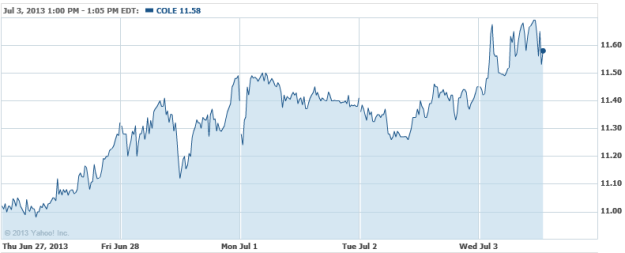 Investing Insights: Will US Airways Climb Higher?