Pfizer Discontinues Its Inotuzumab Evaluation and 2 Other Dow Movers to Watch
Pfizer (NYSE:PFE): Current price $29.02
Pfizer has recently suffered a pipeline setback with its discontinuing a late-stage evaluation being conducted with its oncology candidate, inotuzumab ozogamicin. The randomized, open-label, two-arm phase III study was being conducted in patients suffering with relapsed or refractory CD22+ aggressive non-Hodgkin lymphoma, who are ineligible for intensive high-dose chemotherapy. A once-monthly dose of inotuzumab plus Rituxan (rituximab) was studed for safety and efficacy compared to an active comparator arm (Treanda + Rituxan or Gemzar + Rituxan). Based on a scheduled interim analysis, an independent data monitoring committee reported that the inotuzumab arm was unlikely to attain the primary endpoint of overall survival. Pfizer said that no new safety problems were seen.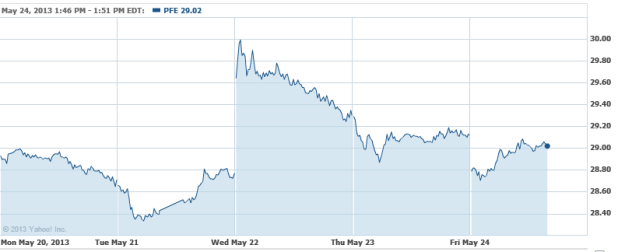 E.I. DuPont de Nemours and Company (NYSE:DD): Current price $55.27
DuPont will support the bipartisan Chemical Safety Improvement Act introduced by Senators Frank R. Lautenberg (D-NJ) and David Vitter (R-LA), along with other Republican and Democratic co-sponsors. Environmentalists and various consumer and industry advocacy groups have long contended that the current Toxic Substances Control Act, which is administered by the Environmental Protection Agency, is antiquated and needs an overhaul. Recently, Lautenberg and other co-sponsors introduced the Chemical Safety Improvement Act of 2013, which was created to limit the use of toxic chemicals connected with a wide range of diseases, and put the burden on chemical makers to ensure that their chemicals are safe.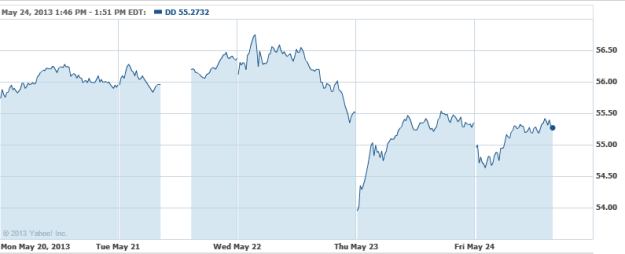 Alcoa (NYSE:AA): Current price $8.50
This week in London, Alcoa was presented with the Industry Leadership Award for Aluminum at the inaugural Platts Global Metals Awards, sponsored by Platts, which supplies energy, petrochemical and metals information. The company was honored for taking decisive action resulting in a substantial transformation or change of direction in the aluminum industry. Executives and firms from 11 countries were chosen as finalists for the awards, which recognize exemplary performance in almost a dozen categories. Judging criteria for the industry leadership category included innovation, financial results, product quality, safety, and strategic vision.
Don't Miss: Do Gamers Like Starcraft II: Heart of the Swarm?