Pfizer Feels the Heat From Novartis
Pfizer Inc. (NYSE:PFE): Current price $32.12
Pfizer's rival Novartis is racing the former to develop a promising new type of breast cancer drug, which analysts believe could bring billions of dollars in yearly sales. The Swiss drug maker, which has prior to this kept its research program undercover, revealed Friday that its experimental pill LEE011 is primed to enter final-stage Phase III clinical trials in December. Pfizer's rival drug palbociclib is already in Phase III testing, but Novartis' rapid progress means the group could face competition rather sooner than anticipated. Both drugs are pills, and work by blocking two enzymes called cyclin dependent kinases 4 and 6.

Violin Memory Inc. (NYSE:VMEM): Current price $3.10
Shares of Violin Memory are down by almost 50 percent Friday after the data storage firm's worse-than-anticipated third-quarter results and outlook triggered a downgrade from a Wall Street analyst. Violin Memory posted a loss of 63 cents per share, excluding one-time items, on revenue of $28.3 million for the period ended October 31, much worse than consensus, at a loss per share of 45 cents on revenue of $31.7 million. The firm has forecast sales between $30 million and $32 million for its fourth fiscal quarter. However, analysts polled by FactSet were expecting $43.3 million.

EBay Inc. (NASDAQ:EBAY): Current price $50.33
EBay's Black Friday deals will begin a day sooner on Thursday, November 28. Though the online marketplace is usually associated with second-hand goods, there will be several deals available on new items this year. However, EBay is not launching them all on the same day, but they will be posted daily to its deal site throughout the Black Friday period. Some highlights will be the original iPad mini at $239, Google's latest Nexus 7 going for $199, a PS Vita at $149, and Microsoft's Surface RT for $169.99.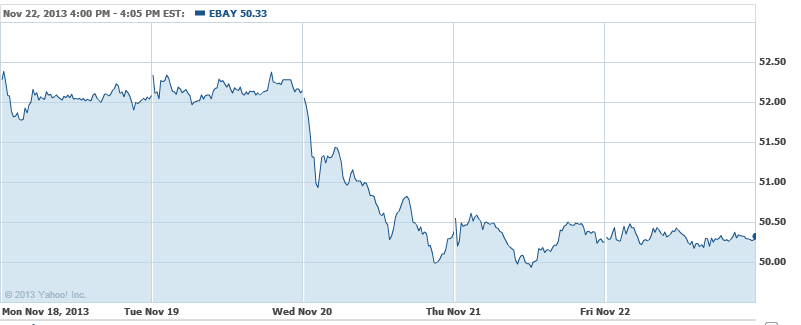 Don't Miss: Einhorn Gives Apple Team a Barely Passing Grade.