Pfizer Gets European Approval, Caesars Files S-1 with SEC, and 3 More Hot Stocks
Pfizer Inc. (NYSE:PFE): A panel has approved the expansion of use of Pfizer's blockbuster antibacterial vaccine Prevenar 13, meant for adults age 18 to 49, while it was previously was authorized only for ages 6 weeks to 17 years and for those older than 50. Sales of the drug, which is designed to prevent infections from 13 strains of the Streptococcus pneumoniae bacterium — which can cause pneumonia, ear infections, and pneumococcal meningitis — reached $846 million in the first quarter of the year.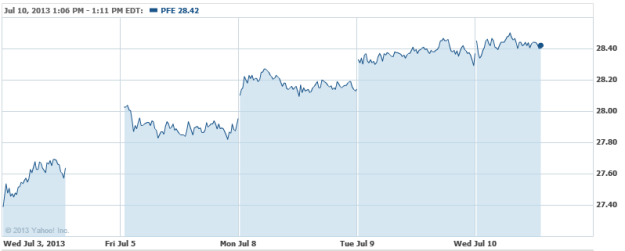 Caesars Entertainment (NASDAQ:CZR): Shares are ripping over 6 percent after Caesars filed a statement with the SEC to distribute subscriptions rights for 125,400 shares of Caesars Acquisition Company for $9.42 per share. The entity created under the filing will supply capital that will allow Caesars to continue to fund new growth opportunities in a more flexible vehicle.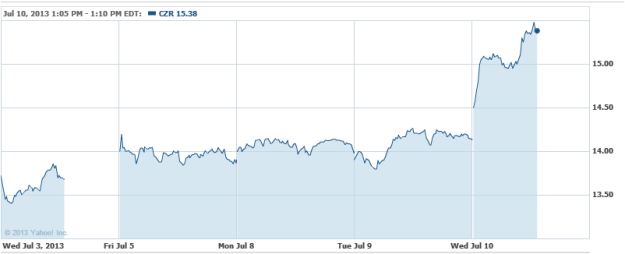 News Corp. (NASDAQ:NWSA): Chairman Rupert Murdoch said that he would testify — again — before the U.K. Parliament in regards to a leaked tape that surfaced, in which Murdoch is heard indicating that payments made to public officials in exchange for information was a part of the culture of U.K. journalism. Murdoch may have committed contempt of Parliament from a hearing last year, when he said, "Paying police officers for information is wrong."

Yum Brands (NYSE:YUM): With second-quarter earnings due after close on Wednesday, analysts are expecting that earnings per share dropped to $0.54 from $0.67 a year ago, while revenue fell 7.6 percent to $2.93 billion. The chain has had a tough scrape with China, where concerns about suppliers and the avian flu put a sizable dent in sales. Nevertheless, Yum is counting on a fourth-quarter turnaround.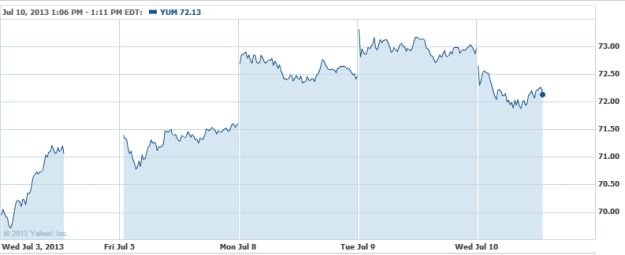 Google Inc. (NASDAQ:GOOG): Google has given its Maps app for Android a significant refresh, with information cards, cleaner fonts, and radically fewer buttons and menus. The app has been optimized for both smartphones and tablets, offers more Zagat content, improved navigation, and Google Offers integration, hinting that the company may be trying to monetize its map program.