Pfizer Gives CEO Top Pharma Pay and 2 More Dow Movers to Watch
Pfizer (NYSE:PFE): Current price $
In 2012, Ian Read was the highest-paid chief executive at a large pharmaceutical firm, as top officers in the United States remained on average much better compensated than their European counterparts.Pfizer hiked Reads remuneration by 2.5 percent to $25.6 million last year, whileNovo Nordisks Lars Rebien Soerensen had the distinction of being the lowest-paid chief executive, with $5 million, according to the analyst Sam Fazeli, for Bloomberg Industries in a note on Thursday, which also said that the median pay of CEOs of large pharmaceutical firms in the U.S. was $17.2 million in 2012, 85 percent higher than the $9.3 million European average.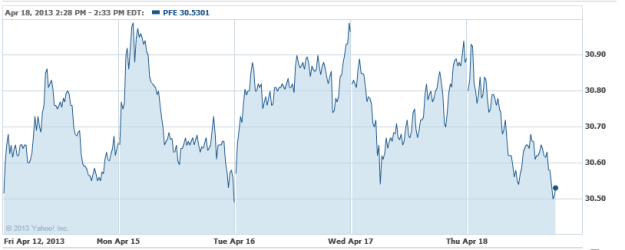 Wal-Mart Stores (NYSE:WMT): Current price $77.44
Shares dropped the most on Thursday in two months after a Detwiler Fenton group analyst said that grocery and apparel sales could be weak. At 12:10 in New York,shareswere down by 1.9 percent to $77.02,and had earlier slid up to 2.4 percent for their largest intraday decline since Feb. 15. Wal-Mart had gained 15 percent thus far in 2013 through Wednesday, versus an 8.8-percent increase for the Standard & Poors 500 Index. The cause might be that analysts said Thursday in a note that they are detecting signs of deteriorating sales of perishable goods at stores, implying that the retailer's grocery business may be stalling.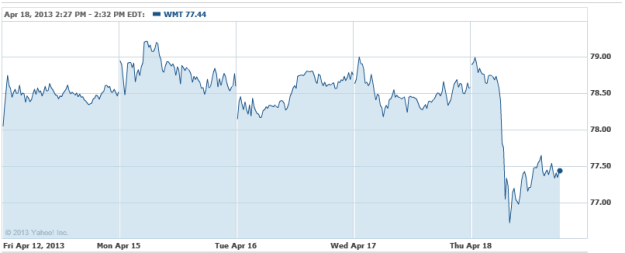 Caterpiller (NYSE:CAT): Current price $80.29
A year ago at this time, Caterpillarwas trading at a 52-week high but presently the stock is the worst Dow 30 component year-to-date, and is poised to touch a fresh low for 2013, prior of the firms first-quarter earnings report on Monday.Caterpillar has experienced several downgrades and price target reductions during the past month, with the most recent ones on Wednesday from analysts at Macquarie and Jefferies; they point to Chinas slowing economy as the main factor in the situation.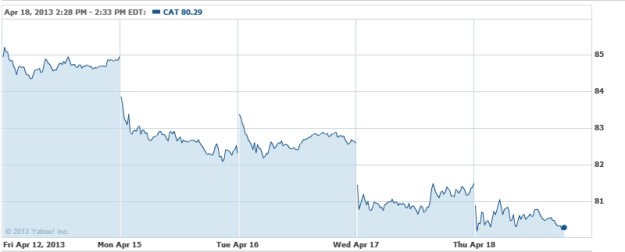 Investing Insights: Is Clorox Still a Safe Investment?