Pfizer is the Only Dow Member to Avoid the European Flu
On Tuesday, the Dow (NYSE:DIA) lost nearly 300 points after Greek Prime Minister George Papandreou surprised European leaders when he called for a referendum on the new aid package for Greece, putting austerity measures and potentially the nation's membership in the euro zone to a popular vote.  Pfizer (NYSE:PFE) was the only blue chip member to close in the green.  Pfizer is a global pharmaceutical company which develops and manufactures prescription medications for humans and animals.
Shares of Pfizer closed nealry 1% higher after reporting third quarter results early Monday.  Net income for the company increased to $3.74 billion, compared to only $866 million in the same quarter a year earlier. This is a more than fourfold rise from the year earlier quarter.  Technically speaking, there is an upward sloping trend line in place dating back to July of last year, and shares are up more than 10% year-to-date.  As long time Wall St. Cheat Sheet readers know, 'Technicals on the Stock Chart are Strong' is one of the 'T's in our CHEAT SHEET investing framework.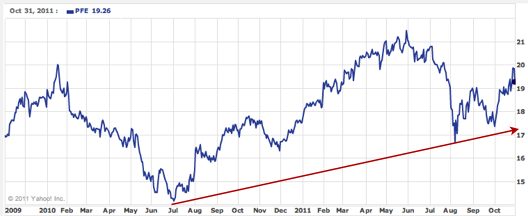 Pfizer also satisfies our other 'T' in the investing framework, 'Trends Support the Industry in which the Company Operates.'  Americans are addicted to their drugs.  According to the Kaiser Family Foundation, prescription drug usage in the US is on the rise.  A recent report found that the number of prescriptions filled each year increased by 39% between 1999 and 2009.  The average American fills 12 prescriptions each year.
Although Pfizer may meet several requirements of our investing framework, investors need to consider the company's lack of 'High Quality Product Pipeline for Future Good News,' which is one of the 'H's in the framework.  This month, Pfizer will lose patent protection for its huge money maker heart drug, Lipitor.  Trader Zach Karabell said, "We know that their pipeline is heavily compromised.  So we know they are going to have to spend some of that cash in order to buy their Research and Development pipeline."  Pharmaceutical makers worldwide will lose approximately $50 billion in revenue this year due to patent expirations.  Investors willing to wait out the bumpy ride, may find comfort in Pfizer's 4% dividend.
Competitors to Watch: Johnson & Johnson (NYSE:JNJ), Merck & Co., Inc. (NYSE:MRK), GlaxoSmithKline plc (NYSE:GSK), Bristol Myers Squibb Co. (NYSE:BMY), Eli Lilly & Co. (NYSE:LLY), Abbott Laboratories (NYSE:ABT), Novartis AG (NYSE:NVS), Mylan Inc. (NASDAQ:MYL), Amgen, Inc. (NASDAQ:AMGN), and Sanofi-Aventis SA (NYSE:SNY).
Investing Insights: These 5 Healthcare Stocks are Making Big Waves.