Pfizer Loses Appeal, Sony Brings Next SmartWatch, and 3 More Hot Stocks
Pfizer Inc. (NYSE:PFE): The Supreme Court has rejected an appeal made by Pfizer on a ruling that left the company open to lawsuits related to its bankrupt Quigley unit, which shut down operations in 1992. Quigley, which made asbestos-containing products for the steel industry from the 1940s to the 1970s, was bought by Pfizer in 1968. The latter contended that Quigley's bankruptcy proceedings insulated the company from suits filed under Pennsylvania state law.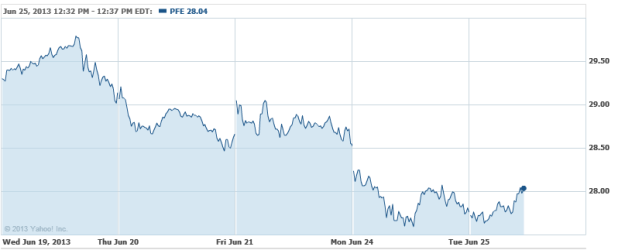 Sony Corporation (NYSE:SNE): Sony was one of the first companies to get a smart watch onto the shelves, but the first attempt was lacking. Now, Sony has revealed the SmartWatch 2, which supposedly sports improved software and adds NFC for one-touch pairing to an Android smartphone; a higher-resolution display with better sunlight visibility; better battery life; an improved user interface; and more pre-installed and recommended apps.

Walgreen Co. (NYSE:WAG): Despite an uptick in market share expansion, both sales and revenue fell short for the third quarter. EPS of $0.85 missed by $0.05, while revenue of $18.3 billion missed by $0.14 billion. Front-end comparable store sales were only up a marginal 0.4 percent, and though the average basket size increased, it couldn't offset a significant 3.9 percent drop in traffic.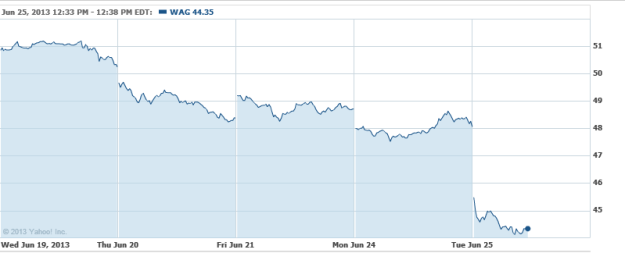 Verizon Communications (NYSE:VZ): If Verizon were to enter into the Canadian wireless market, the incumbent providers could face a stock hit of up to 18 percent, according to Desjardins analyst Maher Yaghi. Yaghi believes Verizon would be a very strong contender in Canada, given such factors as its huge size and strong handset buying power. "We believe from a risk management point of view, investors would be well advised to ponder the potential downside in the stocks of wireless incumbents in Canada if Verizon decided to take the plunge into the market," he said. "The potential downside could be sizable."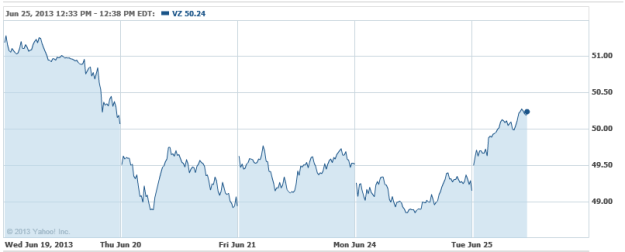 Pandora Media (NYSE:P): The integration of Pandora's streaming service into automotive infotainment systems has yielded 2.5 million new service activations, and Pandora also estimates that over one third of 2013 new U.S. car sales will have its service built-in, thanks in part to 100 or more vehicle models that sport the function. Investors are pleased, Pandora shares are up over 7 percent.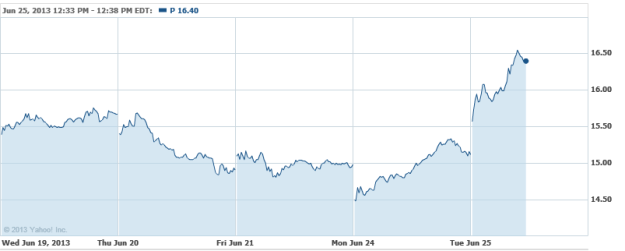 Don't Miss: Tenet Healthcare Acquires Vanguard in Preparation for Obamacare.