Pfizer May Enter Brazil Auction Again and 3 Stocks At 52-Week Highs
Novartis (NYSE:NVS): Closing price $71.32
Novartis, Pfizer (NYSE:PFE), and Abbott Laboratories (NYSE:ABT) are mulling second-round bids to purchase Brazil's Ache Laboratorios in an auction that could value the company at more than $5 billion, say knowledgeable sources to Reuters. Shares closed up 0.37 percent on Tuesday at $71.32, and have traded in a 52-week range of $51.20 to $71.63.

News Corp. (NASDAQ:NWSA): Closing price $31.03
On Monday, a federal appeals court threw out a request by TV networks to shut down Aereo, which supplies the networks' broadcasts over the Internet, according to The Hill. Litigation between the networks and Aereo should continue while the service expands to new cities, according to the website reports. Shares closed up 2.27 percent on Tuesday at $31.03, and have been traded in a 52-week range of $13.55 to $24.04.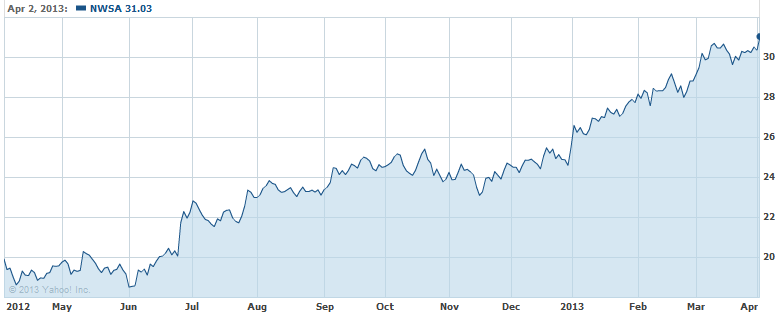 Obagi Medical (NASDAQ:OMPI): Closing price $22.88
Obagi's board has received a letter from Merz Pharma Group which detailed its proposal to purchase all of the outstanding common stock of Obagi for $22 per share in cash. This offer represents a 58 percent premium to Obagi's close on March 14, the last trading day prior to the disclosure on Obagi's fourth quarter earnings call that the firm had engaged a financial advisor to help explore "all opportunities."  Merz believes that its current offer is superior to that of Valeant Pharmaceuticals International, which was tendered a few days before. Shares closed up 16.08 percent on Tuesday at $22.88, up $3.17 or 16.08% on the day. They have traded in a 52-week range of $10.70 to $19.90.

Rosetta Stone (NYSE:RST): Closing price $15.67
Rosetta Stone has purchased Livemocha, an online language-learning community, in a cash transaction of $8.5 million. Featuring a robust and extensible cloud-based learning platform and a community in excess of 16 million Livemocha members, the acquisition steps ups Rosetta Stone's transition to cloud-based learning solutions. Shares closed up 4.05 percent on the day at $15.67, having been traded in a 52-week range of $9.26 to $15.44.

Don't Miss: Did Apple's Apology to China Come With This Awesome Gift?