Pfizer & Merck Collaborate on Ertugliflozin and 2 Other Heavily Traded Stocks To Follow
Pfizer (NYSE:PFE): Current price $30.48
On Monday, Merck & Co. and Pfizer have entered into a global (except Japan) collaboration accord for the development and commercialization of Pfizer's ertugliflozin (PF-04971729), which is an investigational oral sodium glucose cotransporter (SGLT2) inhibitor being studied for the treatment of type 2 diabetes. Ertugliflozin is Phase III-ready, with trials that should start later in the year.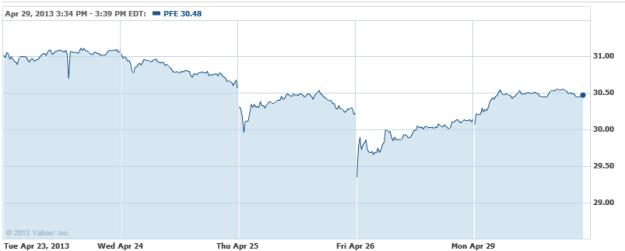 Intel Corporation (NASDAQ:INTC): Current price $22.80
The outgoing Intel Chief Executive Paul Otellini is casting his vote in support of SoftBank's proposal to acquire Sprint after DISH Network (NASDAQ:DISH) came into the takeover battle with a debt-laden, $25.5 billion proposal for the United States' number-three wireless carrier. In a letter sent to Federal Communications Commission Chairman Julius Genachowski, Otellini indicated that he wanted to add his name to a list of firms in support of SoftBank's offer for Sprint, although he did not outline specifics as to why SoftBank's offer surpasses than the one proposed by Dish and its chairman Charlie Ergen. Otellini did pronounce the firm's plan to build a third national high-speed network  "compelling" and important to wireless industry competition.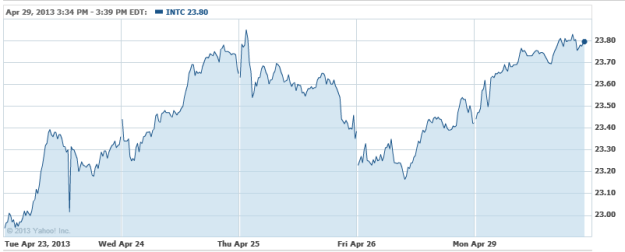 Ford Motor Company (NYSE: F): Current price $13.65
On Wednesday, Ford will trade ex-dividend, for its quarterly dividend of 10 cents, payable on June 3rd, according to DividendChannel.com. As a percentage of the shares' recent price of $13.59, this dividend comes to roughly 0.74 percent, so investors should expect  shares to trade 0.74 percent lower when the stocks open for trading on Wednesday.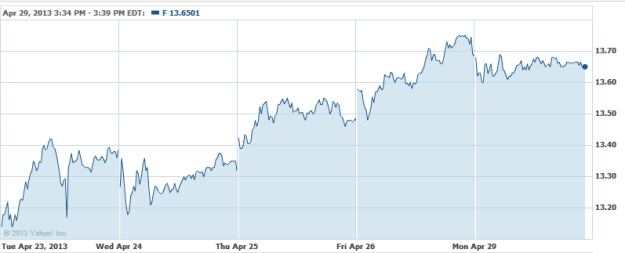 Don't Miss: Has Novartis Been Bribing Your Doctor?