Pfizer Presents Prevenar 13 Results in Berlin and 2 Other Dow Movers to Watch
Pfizer (NYSE:PFE): Current price $30.51
On Saturday, Pfizer presented the results from a Phase 3 study examining immunogenicity, tolerability and safety of Prevenar 13 (Pneumococcal polysaccharide conjugate vaccine [13-valent, adsorbed]) in adults 18 between 49 years of age. The study attained all primary and secondary objectives, and establishes the clinical foundation for the firm's regulatory submission in the European Union and planned regulatory submissions in the United States and other countries worldwide to seek expansion of the use of Prevenar 13 to include adults 18 to 49 years of age. These results were presented at the 23rd European Congress of Clinical Microbiology and Infectious Diseases in Berlin.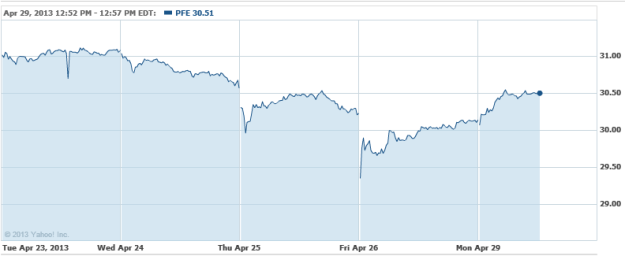 The Walt Disney Company (NYSE:DIS): Current price $63.11
Entertainment's top young stars among kids and teens enjoyed the Minnie Mouse-themed gifting lounge at the Radio Disney Music Awards  at Nokia Theatre L.A. Live, on Saturday. Chloe and Halle Bailey (Radio Disney's N.B.T.), Selena Gomez, Coco Jones, Maia Mitchell (The Fosters, Teen Beach Movie), Bella Thorne (Shake It Up), Olivia Holt (Kickin' It), Laura Marano (Austin & Ally) and Debby Ryan (Jessie) browsed the most recent selection of Minnie Mouse inspired fashions, beauty products, accessories, and electronics.

Exxon Mobil Corporation (NYSE:XOM): Current price $88.40
Exxon Mobil has commenced production at its Kearl oil sands project in Alberta, which is forecast to produce 4.6 billion barrels of recoverable oil in the next 40 years. Some 110,000 barrels per day are projected to be produced later in 2012, and that amount should double by late 2015, according to a company statement. The Kearl site lies 46 miles northeast of Fort McMurray, Alberta, and is operated by Imperial Oil (AMEX:IMO), while the site itself is 70-percent owned by Exxon Mobil.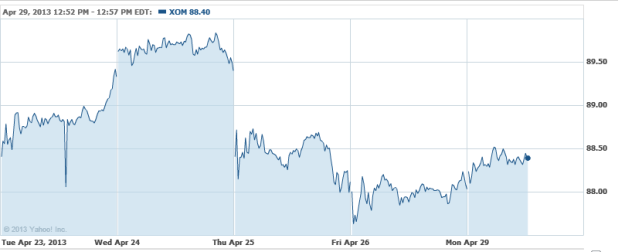 Don't Miss: Has Novartis Been Bribing Your Doctor?