Pfizer Prevails In Infringement Suit and 2 Other Hot Stocks to Watch
Pfizer (NYSE:PFE): Current price $28.55
Pfizer shares spiked somewhat in morning trading, on word that it and Takeda Pharmaceutical had arrived at a favorable $2.15-billion settlement in its patent-infringement lawsuit against Teva Pharmaceutical Industries (NYSE:TEVA) and Sun Pharmaceutical Industries. The suit originated from the two generic drug makers' intro of a generic form of the acid reflux drug Protonix in the United States, after nearly a decade of legal battling on the part of Pfizer and the now defunct Nycomed, which was taken into Takeda. Through the terms, Teva and Sun concede that their sales of the generic drug pantoprazole violated a valid patent. A jury in New Jersey decided that the drug violated a patent owned by Takeda, which was licensed exclusively to Pfizer. Teva will pay the larger portion of the damages, a total of $1.6 billion spread out over 2013 and 2014, while Sun shells out $550 million.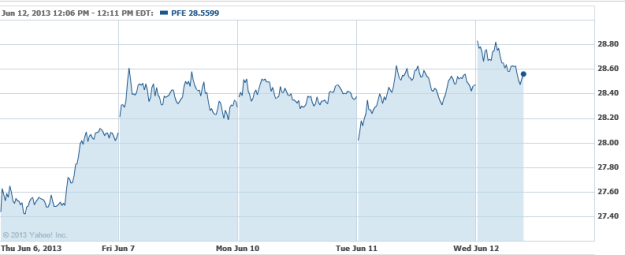 Cooper Tire & Rubber Co. (NYSE:CTB): Current price $34.52
Apollo Tyres is acquiring Cooper Tire & Rubber Co. at a price of roughly $2.22 billion, reinforcing its footprint in North America and other key markets on a global basis. On Wednesday, Apollo said that the unified company will become one of the biggest tire makers on the planet, having a strong presence across four continents, and combined (2012) sales of $6.6 billion. The tire brands involved include Apollo, Cooper, Roadmaster and Vredestein. Pursuant to the terms of the buyout, Cooper shareholders will receive $35 per share in cash, which represents a 42-percent premium over Cooper's Tuesday close.

Newcastle Investment Corp. (NYSE:NCT): Current price $5.12
On Wednesday, Newcastle said today that it will make a public offering of 30 million shares of its common stock, and intends to allow the underwriters an option for 30 days to buy up to an additional 4.5 million shares. The firm will use the net proceeds for general corporate purposes, including a variety of investments, which it expects to primarily include purchases of senior housing properties, but might also include acquisitions of CDO debt and other real estate securities and loans.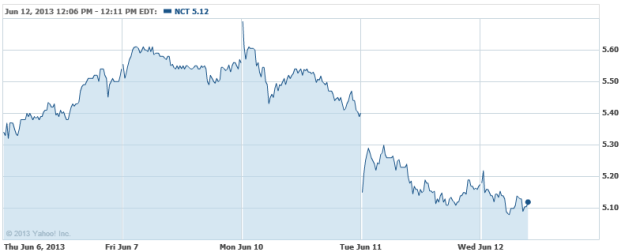 Don't Miss: 5 Key Analyst Reactions to Apple's Big Day.