Pfizer To Resolve Asbestos Claims On Quigley and 2 Other Dow Movers To Watch
Pfizer (NYSE:PFE): Current price $28.33
On Wednesday, the bankruptcy Judge Stuart Bernstein in Manhattan approved a Chapter 11 plan that will permit Pfizer's non-operating Quigley Co. to end nearly nine years in bankruptcy, resolving the majority of asbestos claims against the company and its defunct unit. Under the settlement's terms, Pfizer will contribute assets worth $964 million. Bernstein turned aside a prior plan almost three years ago, deciding that Pfizer was improperly making use of Quigley's bankruptcy to shield itself from asbestos claims. Then in September 2010, the judge found that Pfizer's proposed $216.2 million contribution to a previous plan insufficient, considering court testimony that Quigley could face $4.45 billion in claims over 42 years, and that asbestos claimants might have come out better by suing the company under civil tort law.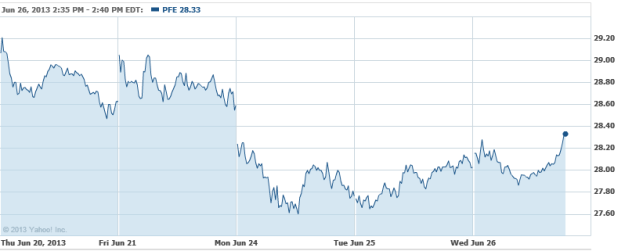 Cisco Systems (NASDAQ:CSCO): Current price $24.25
At Cisco Live! in Orlando, the company unveiled a pioneering data center networking architecture, created to ease in the era of Application-Centric Infrastructure. Cisco's architecture is designed to transform data centers to more adequately meet the demands of new and current applications in the Cloud era. Accelerated to market by Cisco's investment in Insieme Networks, this fundamental transfer to application-centric infrastructure will give IT the ability to rapidly deliver business applications to end-users with a scalable secure infrastructure, simpler operational model, and at optimized cost.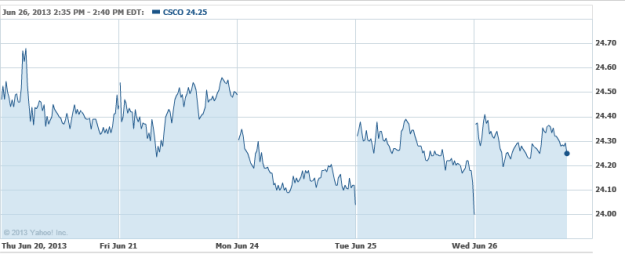 Intel Corporation (NASDAQ:INTC): Current price $23.98
Intel held its Research@Intel Event Tuesday, showing off some of the technologies that is expected in future years. The demonstrations were divided into four different stations: The Data Society, Enriching Lives, Intelligent Everything, and Tech Essentials. Slightly more than two years ago, the firm began collaborations with outside academic researchers by which to develop a worldwide network of seven Intel Science and Technology Centers, and six Intel Collaborative Research Institutes. Each center enables its researchers to advance computing in a much quicker way than ever before, as they advance fields like embedded, cloud, social and secure computing, together with others.