Pfizer to Sell Viagra Online and 2 Other Hot Stocks to Watch
Pfizer (NYSE:PFE): Current price $28.76
Pfizer will establish a site through which to sell Viagra online, in an attempt to stem sales of counterfeit versions of the drug. The firm said that online pharmacies have grown tremendously in recent years so as to satisfy consumer demand for all sorts of medication, but that most of these sites are illegitimate. Moreover, Viagra is Pfizer's most counterfeited product. A study conducted two years ago by its security department regarding the top 22 sites that came up the most after searches for the phrase "buy Viagra" found that 80 percent were selling counterfeits, containing only a fraction of the active ingredients advertised.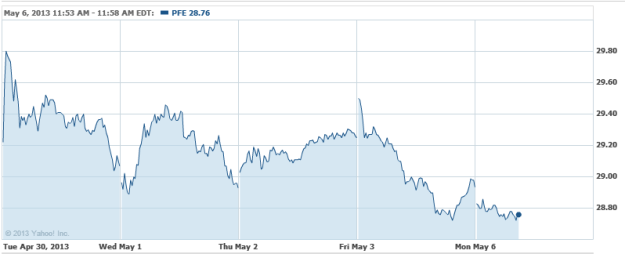 Linn Energy (NASDAQ:LINE): Current price $35.14
TheStreet reports that the ex-dividend date for Linn Energy is Monday, and that owners of shares as of market close will be eligible for a dividend of 73 cents per share. As of 9:30 a.m. Eastern Time, at the price of $38.60, the dividend yield is 7.6 percent.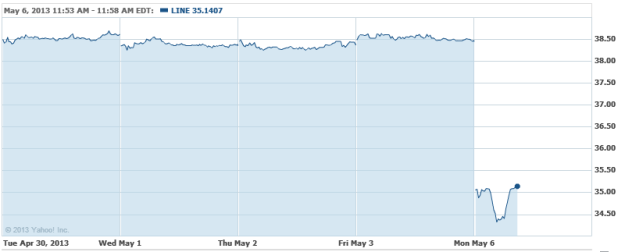 Microsoft Corporation (NASDAQ:MSFT): Current price $33.44
On Monday, Chairman Bill Gates told CNBC that his company is trying to increase its market share in the Apple-dominated tablet market, saying that personal computers are still a big business. Appearing in a Squawk Box interviewfrom Omaha, with his peer billionaire Warren Buffett, Gates added that it's going to be more difficult to see the difference between the tablets and personal computers, commenting that "With Windows 8, Microsoft is trying to gain market share in what has been dominated by the iPad-type device. But a lot those users are frustrated. They can't type. They can't create documents. So we're providing them something with the benefits they've seen that has made that a big category but without giving up what they expect in a PC."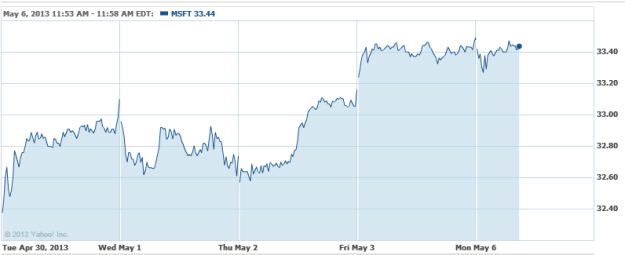 Don't Miss: Can Johnson & Johnson Deal With This Publicity Fiasco?