Pfizer Treatment is Approved and 4 Stocks At 52-Week Highs
NYSE Euronext (NYSE:NYX): Closing price $38.39
NYSE Euronext has raised fears that United States capital markets might become less attractive to investors as countries place curbs on private stock dealing, according to The Wall Street Journal. A senior NYSE executive said that tighter rules over off-exchange stock trading, also known as "dark pools", could hike investing in other jurisdictions. Shares closed down 0.23 percent on Monday at $38.39, and have been traded in a 52-week range of $22.25 to $38.56.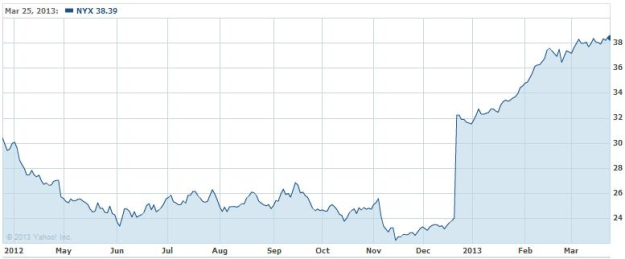 Pfizer (NYSE:PFE): Closing price $28.16
The Japanese Ministry of Health, Labor and Welfare has okayed Pfizer's Xeljanz for the treatment of adults suffering from rheumatoid arthritis who have had an inadequate response to existing therapies. The drug may be used in patients in whom clinical symptoms due to the disease remain even after appropriate treatment with at least one other disease-modifying antirheumatic drug, such as methotrexate. Xeljanz will be available in Japan after the National Health Insurance listing and will be co-promoted there by Pfizer and Takeda Pharmaceutical Company Limited. Pfizer and Takeda also currently co-promote the RA drug Enbrel in that country. Shares closed down 0.78 percent on the day at $28.16, having been traded in a 52-week range of $21.40 to $28.40.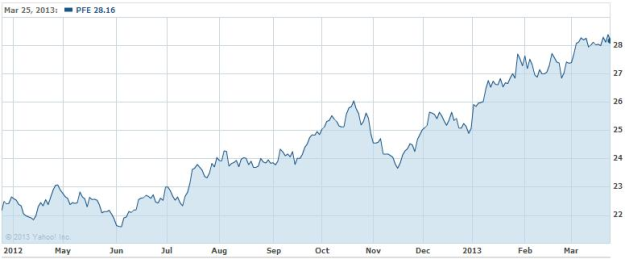 Selective Insurance Group (NASDAQ:SIGI): Closing price $23.67
On March 22, the Salary and Employee Benefits Committee of the Board of Directors of SICA, the lead insurance subsidiary of Selective Insurance Group, authorized SICA's management to amend: (i) the Retirement Income Plan to freeze all future accruals under the plan effective as of March 31, 2016; (ii) the SERP to cease all future benefit accruals under the SERP effective as of March 31, 2016; the 401K Plan to provide that, effective as of April 5, all eligible employees who have completed one year of eligibility service are eligible to receive the 4 percent non-safe harbor non-elective contribution under the 401K Plan; and (iv) the DCP to extend eligibility to receive certain nonelective company contributions under the DCP to participants who are active participants in the Retirement Income Plan, effective as of April 5, to the extent a participant is unable to receive all or a portion of their 4 percent nonelective contribution to the 401K Plan due to Internal Revenue Service limitations. The amendment to the Retirement Income Plan is expected to result in an after-tax benefit to stockholders' equity of approximately $18M. The above changes will result in an immaterial impact to net income in the three year transition period ending March 31, 2016. Shares closed up 0.47 percent on Monday at $23.67, having been traded in a 52-week range of $16.22 to $23.56.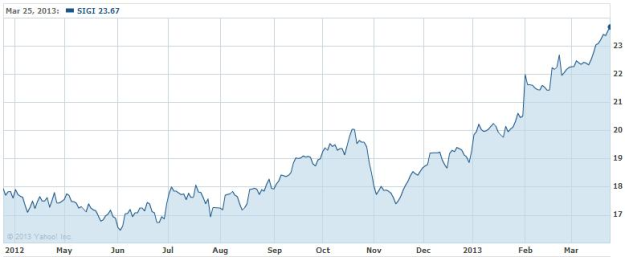 Thomson Reuters Corporation (NYSE:TRI): Closing price $32.40
The corporation reported that 21 leading banks in Nepal have enrolled with Thomson Reuters Dealing, its trading platform for foreign exchange that allows trading professionals to connect with each another, hold conversations regarding various foreign exchange products and prices, along with conducting FX transactions. This will also represent the first time that the Nepalese rupee trades on a world trading platform alongside major international currencies. Shares closed up 0.5 percent on the day at $32.40, having been traded in a 52-week range of $26.20 to $32.87.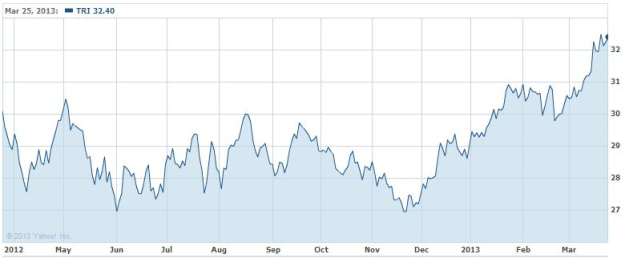 Trius Therapeutics (NASDAQ:TSRX): Closing price $6.95
Trius has reported top-line results from its ESTABLISH 2 Phase 3 clinical trial of tedizolid phosphate, for the treatment of acute bacterial skin and skin structure infections, including methicillin resistant Staphylococcus aureus. As in the ESTABLISH 1 study, which tested the oral dosage form of tedizolid, the ESTABLISH 2 intravenous to oral transition study attained the endpoints for ABSSSI established by both the FDA and the European Medicines Agency. Shares closed down 1.57 percent on Monday at $6.95, and have been traded in a 52-week range of $4.41 to $7.20.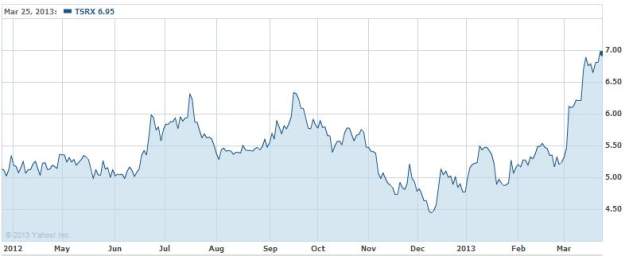 Don't Miss: Warren Buffett Climbs Billionaires Index With These 5 Stocks.